I am proud and excited to launch Ultra Renew Plus. After months of testing and tweaking, Ultra Renew Plus by Truth In Aging offers not one, not two, but three modes: ultrasonic, LED and galvanic (positive and negative ions). What's more – and this is the really, really cool part – they can all be used at the same time (what more could a busy woman want) as well as separately. This is the anti-aging, lifting and firming tool to put at the top of your wishlist.
Ultra Renew Plus has an LCD display panel on the device, enabling you to choose and see the modes and intensity. After testing it for most of this year, I am convinced that the ultrasound mode is more effective on the Plus and the ability to use two or even all three modes together is efficient and effective.
So what exactly do these modes do and how do they work? Overall, they are the best thing I know for smoothing lines and lifting sagging skin. But they contribute to the tasks a little differently.
Ultrasound:
As the ultrasound waves pass from the treatment head to the skin, they cause a vibration of the surrounding tissues, particularly those that contain collagen. This vibration massages the skin and increases oxygen to the cells and aids in the removal of waste. The skin should feel energized, rosy and firm. Although the frequency is 3 MHz. Read on for more on how ultrasound works.
Ultrasound must be used with a water-based product (serum or gel) to ensure conductivity (there are directions for use here).
LED:
In October 2008, German researchers claimed to have identified how LED works – by changing the molecular structure of a glue-like layer of water on elastin, the protein that provides elasticity in skin, blood vessels, heart and other body structures. The light strips away those water molecules that are involved in the immobilization of elastin, gradually restoring its elastic function.
In addition to red light (helpful for smoothing, rosacea and broken veins), Ultra Renew Plus has blue and green lights. Blue light wavelengths produce singlet oxygen, which potentially destroy acne-causing bacteria. Green light targets melanocytes, melanin-producing cells located in the bottom layer of the skin's epidermis.
Ionic:
Ionic, or galvanic current is a low level, continuous current that flows in one direction, making it a direct current with dual polarity of a positive or negative charge. It is supposed to work on the principle that charged ions in the skin are either attracted or repelled from the electrodes.
On the Ultra Renew Plus, there are two settings – ion+ and ion-. The ion+ (positive ion) is for deep cleansing and firming and ion- (negative ion) is for hyperpigmentation. Positive and negative cannot be used at the same time, but either one can be used with the other modes.
So, for example, you could tackle hyperpigmentation with ion- and the green LED light. Or to help or prevent breakouts and open/blocked pores, ion+ could be used in conjunction with blue LED light. A water-based cleanser, serum or gel (such as our Ultra Renew Gel Serum) must be used.
If you have been an ultrasound and LED fence sitter, then now could be the time to take the plunge.
Editor's Note: The Truth Renew & Truth Renew PLUS prototype devices are no longer available for sale in the Truth In Aging shop.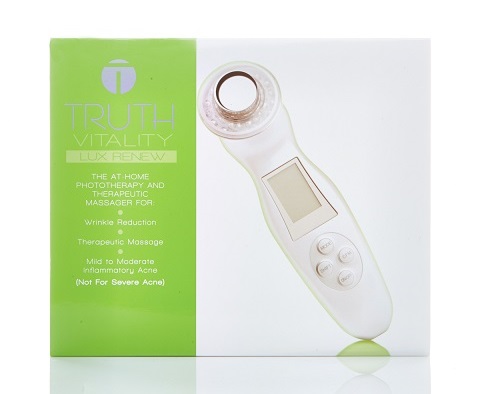 Learn about Truth Vitality Lux Renew, our first ever FDA-cleared device that offers ultrasound, red LED and blue LED therapy to safely and painlessly minimize wrinkles, firm and lift skin, and clear adult acne.