Reviewed by Suely

I have been a fan of the LED light treatment to firm skin since Marta first posted about it. Soon after Marta posted her info and review on the LED light treatments, I got the Sirius Aurora ($149) and started using it. When you try LED treatments and see results (glowing and supple skin) right after using it, it kinda gets you hooked on the LED light idea.

I have skin that is prone to sagging, and I am always searching for products or treatments that are affordable and efficient, so when I read Marta's great idea of bringing LED and ultrasound together, I was thrilled and dying to try it. Luckily, I was given the opportunity to try the new Ultra Renew ($89). Since I had used Sirius Aurora for a while, I could compare them.

My big first surprise was right when I opened the package – My Ultra Renew came in a box lined in a pink silk fabric casing the LED/ultrasound device and included very good quality tanning goggles (flexible and comfortable). You definitely need those goggles to protect your eyes from the LED light. So the package was a very nice touch already. Well, not that it should surprise me since Marta seems to be a person who gives attention to details and quality.

The Sirius Aurora didn't bring goggles with it, and the device feels very light (maybe due to not having the ultrasound in it). The Ultra Renew device has a "quality weight," that is comfortable and light enough for manipulation/use. You can clearly see and feel what I mean if you have a chance to hold and use both the Sirius and Ultra Renew devices.

I was so pleased that couldn't wait to start using it. There are three different light treatments (red, blue and green), like the Sirius. There is a power switch, which I always use in the "high" mode, but you have the choice to start in lower power if you have sensitive skin. The device includes a manual and it is very simple to use.

With the Ultra Renew device, you use the LED light(s) appropriate for the treatment you need, and you can follow this with the ultrasound treatment with a simple touch of the buttons.

I am happy with Ultra Renew for giving me chance to kill two birds with one stone. I am also happy to report that it is working on my "orange peel belly" spot. This problem is probably due to lack of collagen… and therefore why the LED light combined with the ultrasound treatment is giving me results.

In the end, what it comes down to is that the Ultra Renew device feels like a more quality device and offers two treatments in one at a price point that is waaayyy less than the others I know. I am totally sold. Thanks, Marta!
Editor's Note: The Truth Renew & Truth Renew PLUS prototype devices are no longer available for sale in the Truth In Aging shop.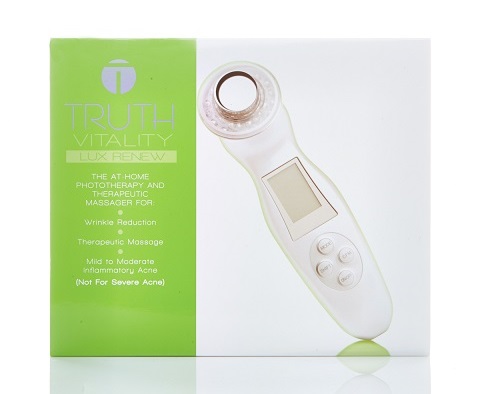 Learn about Truth Vitality Lux Renew, our first ever FDA-cleared device that offers ultrasound, red LED and blue LED therapy to safely and painlessly minimize wrinkles, firm and lift skin, and clear adult acne.