by Joyce
I was excited to win the Dare To Try for a chance to test the Ultra Renew Sculpt. After having seen the picture of an elephant's wrinkly knees and then viewing mine, I was eager to test the device. I am in my 60s with olive skin. As I live in a dry climate, I have always been liberal with the body lotions at night and after every shower. I bike two times a week and am a frequent hiker and walker. This hasn't prevented my knees from sagging, however. I would still like to be able to wear my shorts and not look like a fool.
The device description promises "firming, lifting, plumping, detoxifying, and smoothing cellulite." There is a mode for EMS (electro massage stimulator) which is used alone on clean, lotion-free skin. An intensity control lets you pick how strong the various vibrations, twinges, and massages are according to your comfort level.
The instructions say to start out low both in intensity and also length of time in using the device. After the first two days of use, I had increased to full strength, never having a lot of patience to wait for results. I used the EMS mode six days a week for the first two weeks, and then four days a week the following two weeks of testing. I used it three times per session, as it cuts off every 10 minutes, making for a total of 30 minutes when I used the device in the EMS mode.
After that was done, I used the Ultrasonic and the FAR infrared together using a water-based gel (usually aloe vera). In these modes, the unit gets warm to the touch and actually feels soothing. I used the device on those two settings for 20 minutes a session the same days I had used the EMS modes. This turned out to be time consuming and was only acceptable while watching TV, totaling 50 minutes for a session. I only tried the device on one knee so as to give it a real test. My conclusion: not only was this time-consuming but the end result showed no difference in appearance when compared the untreated knee to the treated one. I can't recommend this product for wrinkly knees.
Editor's Note: The Truth Renew & Truth Renew PLUS prototype devices are no longer available for sale in the Truth In Aging shop.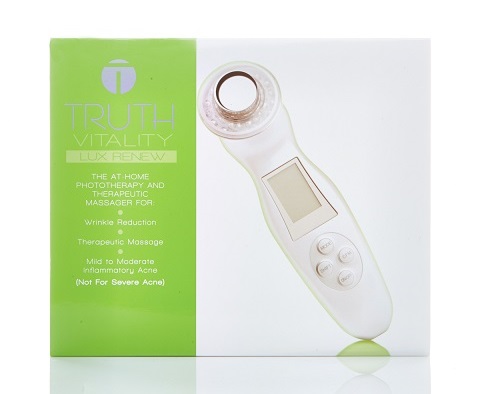 Learn about Truth Vitality Lux Renew, our first ever FDA-cleared device that offers ultrasound, red LED and blue LED therapy to safely and painlessly minimize wrinkles, firm and lift skin, and clear adult acne.