With the popularity of Ultra Renew and Ultra Renew Plus, I received a ton of emails from users about body care concerns (firming, slimming, cellulite and stretch marks), which prompted me to start thinking about another device to address them. LED light enthusiasts were also asking about infrared light. And I myself was intrigued by FAR infra-red when I got to know it in my favorite serum, E'shee KI. Somehow it all came together and, drum roll, enter Ultra Renew Sculpt.

Ultra Renew Sculpt has three functionalities: ultrasonic, FAR infrared light and EMS (electro massage stimulator). The device itself, including the ultrasonic plate and the light panel are all larger than the Ultra Renew and Ultra Renew Plus, making it more practical for use on larger areas such as the arms, legs, buttocks or tummy.

Now everyone wants to know whether Ultra Renew Sculpt can be used for the face. The answer is yes, but I wouldn't advise it. The ultrasound is at 1Mhz. Therapeutic ultrasound frequency ranges from 1-3 MHz. The higher the frequency, the less effective the ultrasound is. Ergo, 1 is stronger than 3. The Ultra Renew and Ultra Renew Plus are in the 3mz range and the ultrasound penetrates less than 2 mm, which is perfect for the face. The stronger 1Mhz of the Ultra Renew Sculpt penetrates a little more deeply and is better for body (read more on how ultrasonic works). If used on the face, it is advised, therefore, to keep Sculpt on the lowest intensity. Also the larger size is great for body parts and arguably treats more of the face. But, by the same token, Sculpt doesn't quite get into the nooks and crannies and isn't as easy to direct accurately when treating the face – compared to the Ultra Renew or Ultra Renew Plus.

What also makes Ultra Renew Sculpt great for the body is that it comes with EMS (electro massage stimulator). These are pads that are placed on the skin, say where you have a little cellulite dimpling. Electric current massages with five different, easily controlled intensities from gentle vibration to distinct pressure.

FAR infrared (FIR) light began to fascinate me when I researched it during my test of E'shee's KI serum, which has ceramic FIR as its key ingredient. Our own bodies radiate far infrared (FIR) energy through the skin at around 9.4 microns. Far infrared waves are the longest rays in the light spectrum and are easily absorbed by the body to a depth of up to 3 inches. It is believed that FIR helps with slimming by encouraging mitochondria in cells to produce more energy, in turn increasing metabolism and burning more calories. I haven't come across a ton of evidence for this, but did find a study that claimed good results on cellulite from infrared combined with radio frequency (source).

Ultrasonic and FIR infrared can be used together, but EMS functions only on its own. In my tests, I found a very noticeable firming and smoothing of the dimply skin on my inner thighs, where I was mostly targeting the device using all three modes. I also got a little lift for the tops of my knees from the ultrasonic and infrared combo. Ultra Renew Sculpt isn't a substitute for exercise (so don't give up on your Bar Method routines), but it will give more than your spirits a lift – just in time for when that beach body needs to emerge.
Editor's Note: The Truth Renew & Truth Renew PLUS prototype devices are no longer available for sale in the Truth In Aging shop.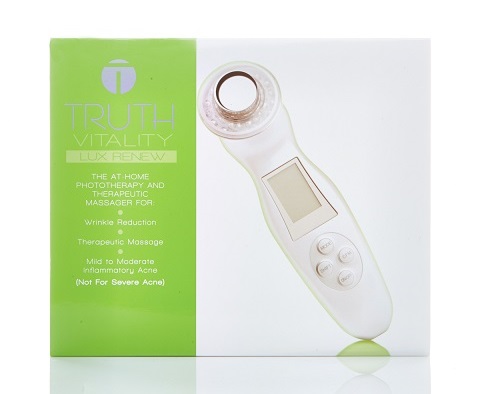 Learn about Truth Vitality Lux Renew, our first ever FDA-cleared device that offers ultrasound, red LED and blue LED therapy to safely and painlessly minimize wrinkles, firm and lift skin, and clear adult acne.