Reviewed by Ann
I've never been a beauty tool junkie, but I was so pleased with the results from my Ultra Renew that I was excited at the chance to try the Ultra Renew Sculpt. I'm in my 40s and although I have a consistent exercise habit, that hasn't saved me from developing a few jiggles and some cellulite. Furthermore, all the running and exercise has left me with scars and spider veins. I was curious to see just how many of these things could be improved with the Ultra Renew Sculpt.

I love how many features you get with this device, and the way you can combine them. I used ultrasound and infrared settings together three times a week and found that it had a modest firming effect on my upper arms and upper thighs. The device also has an EMS (electro massage stimulator) setting, which takes a little practice to get used to. Placement of the pads is critical and I would recommend anyone making extensive use of this feature to consult a good anatomy chart. It was hard to say whether the side where I used the EMS improved more than the side where I did only ultrasound and infrared, but I've been treated with EMS by professionals and suspect that any lack of improvement was due to my own learning curve rather than the feature itself.

I had hoped to see some improvement on my scars and broken capillaries, but the results were inconclusive. Although I got some temporary tightening of a raised scar on my knee when I used the ultrasound, the effect didn't last more than a few hours. I'm not sure if I needed more treatments, or if it was the location of the scar, with all that bending and flexing, that made it hard to see a long-term improvement. I saw no change to the visibility of my broken capillaries when I used the infrared three times per week.

A nice off-market bonus of the Ultra Renew Sculpt is that it soothes tight and sore muscles. For me, it was particularly effective on chronic tendonitis in my right hamstring. Anything that can get me back to the running trail or dance studio is a beauty product in my book! I don't recommend, however, that anyone self-treat an injury without consulting a medical professional.

My only frustration with the Ultra Renew Sculpt is the control placement. I'm not sure if there is a good solution for this problem, but there are so many buttons in the handle that it's easy to accidentally turn the device off or re-set a feature while using it. I often ended up grasping it by the head so as not to turn it off mid-way through a treatment, and this made it awkward to use at times.

Overall, I recommend the Ultra Renew Sculpt for its great price and many useful features. A working knowledge is helpful, and as with the Ultra Renew, best results come from consistent use.
Editor's Note: The Truth Renew & Truth Renew PLUS prototype devices are no longer available for sale in the Truth In Aging shop.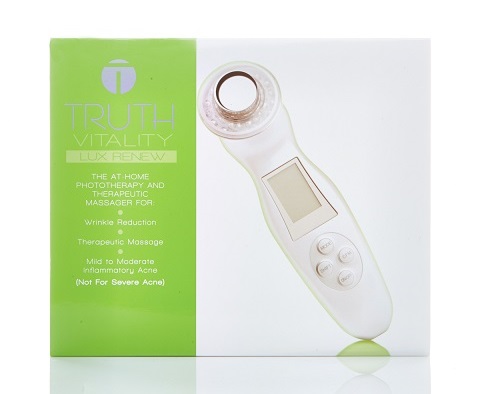 Learn about Truth Vitality Lux Renew, our first ever FDA-cleared device that offers ultrasound, red LED and blue LED therapy to safely and painlessly minimize wrinkles, firm and lift skin, and clear adult acne.