Vichy Aqualia Thermal Cream- reader reviewed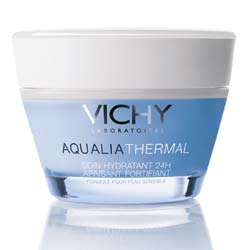 Reviewed by Barb
First, here's what I like about the
Vichy Aqualia Thermal Cream Fortifying & Soothing 24Hr Hydrating Care
($29.95)
I was given to test: it moisturizes and soaks right into my skin and is not too sticky. I'm from the Southeastern United States, where 90+ degree days are the norm, so this is a really good thing. I also like that the product is made with thermal spa water and minerals. I prefer all-natural products and try not to put unnecessary chemicals on my face. I was happy to see that the cream is formulated for sensitive skin, which is what I have. I did not have any breakouts after using the product.
I am a 55-year-old female with excellent skin - it is combination with few lines and spots, so I am truly blessed with good genetics. But I'm happy for anything that will help my skin stay dewy and moist for 24 hours.
Now on to the things I didn't like about this product: although the smell was not unpleasant, I didn't particularly like it - it is too perfume-y for me. The other annoying thing I noticed is that only one side of the box is in English and nowhere on the box does it tell you when or how to use the product. I may have thrown out the instructions within the box; I don't recall. The jar itself has the product description in English, though. As for the 24-hour moisturizing claim, I can't vouch for this because I live in a really humid part of the country, so it is difficult for me to distinguish between normal weather conditions that may cause my skin to look moist and the effects of this cream.
Would I buy this product? No. I felt for the price, the value isn't there. Certainly there are far more expensive creams with far less product for the price, but I didn't feel this would be something I would want to reach for again or pay for in the future. I give it a 7 out of 10. I have enjoyed using it and am glad for the opportunity to use a product I wouldn't normally have a chance to try. I would be interested in finding out what other anti-aging products Vichy has.
Ingredients:
Aqua/water, Glycerin, Dimethicone, Caprylic/Capric Triglyceride, Pentaerythrityl Tetraisostearate, Butyrospermum Parkii Butter/Shea Butter, Synthetic Wax, Alcohol Denat., Hydrogenated Polyisobutene, Ammonium Polyacryldimethyltauramide/Ammonium Polyacryloyldimethyl Taurate, Pentylene Glycol, Stearyl Dimethicone, Glyceryl Stearate, Behenyl Alcohol, Glyceryl Stearate Citrate, Triethanolamine, Sodium Hyaluronate, Phenoxyethanol, Disodium Ethylene Dicocamide PEG-15 Disulfate, Disodium EDTA, Caprylyl Glycol, Citric Acid, Biosaccharide GUM-1, Acrylates/C12-22 Alkyl Metacrylate Copolymer, Parfum/Fragrance
is a Solution for:
Dry Skin, Oily Skin