About Truth In Aging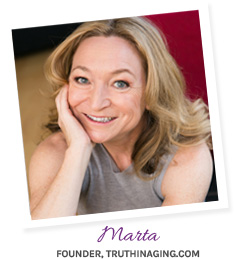 My name is Marta Wohrle and I founded Accord Media in 2008 to publish Truth In Aging with a mission to offer truthful and unbiased guidance to people seeking to improve their physical health and appearance through skin care, hair care, health and beauty products, and salon and clinical treatments. I try to bring a uniquely curious and honest voice to help consumers through my website.
Like many other people, I had a bathroom full of half filled jars of things that had promised a lot and delivered little. I decided to get informed and try to be a savvier consumer. Most of the information was so bad, that I ended up doing my own research to teach myself about which anti-aging ingredients worked, which did not and why. Truth In Aging is a forum to share as I learn.
Truth In Aging has grown into a vibrant community. Real women and men test every product for at least 30 days and write an objective review to share their experiences with others. We do accept free samples, but are never paid to write about products. We always try to tell it like it is. The community is Truth In Aging — amazing women of all ages (and a few guys too), who bring a healthy skepticism and a generosity of spirit.
The Truth In Aging Store
We — by which I mean me and the members of the community who review products — find beauty products, test them for at least 30 days and if we think they are really good and other people might enjoy them, I offer them for sale in the TIA shop. To meet the needs of our community and fill gaps in the market, I launched my own branded products: Truth In Aging's Ultra Renew and Truth Renew at-home devices and Truth Vitality's hair care line. Read more about them in our Truth In Aging Exclusives.
Our Product Reviews
What's the criteria for a good product?
It should improve our appearance and do no evil (to us or the planet).
How do you go about your reviews?
First, we scrutinize and research every ingredient (we have a directory of over 1000 ingredients on our website) in a serum, cream, shampoo, eyeshadow or whatever. Sometimes we'll reject a product on the basis of the ingredients alone. There are too many that don't do anything; too many that do evil (an irritant, a pollutant or a carcinogenic).
How to Get Involved
How can marketers get involved?
You can write comments about your products on Truth In Aging. But please fess up to who you are. Posing as a consumer is not okay, and we will invariably sniff you out. Feel free to send us products with the caveat that we publish unbiased reviews. We love being hooked up to your clients so that we can understand more about the products and the technologies behind them.
How can readers get involved?
You can comment and ask questions as often as you'd like. But we also love to make friends with new reviewers. If you want to write a review, either suggest something you'd like to write about or ask us to send you a sample product. Please also suggest things that you want us to write about or research for you. We'll even give you a view on your own skin regimen if you send in the details. Share as much as possible through comments on the blog, but if you are a little shy: email marta@truthinaging.com.
Why Getting Older Doesn't Have to Suck
Supermodel Lauren Hutton was fired by L'Oreal when she turned 40 and, in an interview, she noted how the beauty and entertainment industries had made women her age invisible. That was 20-odd years ago and we are invisible no more. Charismatic, intelligent and strong women are beautiful at any and every age.
Narrow definitions of beauty (think Caucasian, thin and under 35) are making room for all shapes, sizes and ages. There is more room for individuality than ever before.

For the first time in history, getting older doesn't have to suck. With good diet, exercise, a positive attitude and the right eye cream, getting older can be pretty good. In fact, all of those matter at every age. That's why, here at Truth In Aging, we are inspired by Kelly Osbourne's coming of age with dignity and strength of character. While further along the age spectrum, Helen Mirren looks amazing in a bikini.

Until very recently, women felt compelled to look young. As they aged, they were given impossible promises by cosmetic companies or told by their dermatologists that nothing worked except sunscreen and a $2,000 invasive procedure. Two things have changed.

First cosmetic science has been making some genuine breakthroughs and it is possible to see some improvements with topical skincare. The job of Truth In Aging is to find out what really works and bring the best beauty products to our community.

Secondly, we don't need to be frozen in time by Botox in an attempt to turn the clock back – we can embrace our real age and be beautiful at every age.
Truth in Aging's Rewards Program — With TIA Rewards Points, shopping for your best anti-aging products is even better. More points = more savings. Earn the most points when your shop in the Truth In Aging store.
Truth in Aging's Refer a Friend Program — Earn $15 store credit in the TIA shop for every friend you invite when they make their first purchase.