About Truth In Aging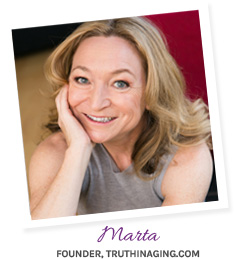 My name is Marta Wohrle and I founded Accord Media in 2008 to publish Truth In Aging with a mission to offer truthful and unbiased guidance to people seeking to improve their physical health and appearance through skin care, hair care, health and beauty products, and salon and clinical treatments. I try to bring a uniquely curious, honest voice to consumer journalism through my website.
Like many other people, I had a bathroom full of half filled jars of things that had promised a lot and delivered little. I decided to get informed and try to be a savvier consumer. Most of the information was so bad, that I ended up doing my own research to teach myself about which anti-aging ingredients worked, which did not and why. Truth In Aging is a forum to share as I learn.
Truth In Aging has grown into a vibrant community. Real women and men test every product for at least 30 days and write an objective review to share their experiences with others. We do accept free samples, but are never paid to write about products. We always try to tell it like it is. The community is Truth In Aging – amazing women of all ages (and a few guys too), who bring a healthy skepticism and a generosity of spirit.
I was born in England in 1960. A former journalist and recovering consultant, I now work in the online and digital media space. I got married in 1991 to a French man, Pascal Volle, and then lived in Paris for a while. Pascal is the handsomest man in the world. We came to New York around 2001 where we still live in a Garment District loft with our two cats, Esmee and Leila. Guilty about keeping them in urban captivity we bought a patch of forest in the Catskills and spend our weekends feeding the deer that our neighbors seem intent on shooting. We figure that being European allows us the latitude to be eccentric. I have never tried Botox.
The Truth In Aging store
We – by which I mean me and the members of the community who review products – find beauty products, test them for at least 30 days and if we think they are really good and other people might enjoy them, I offer them for sale in the TIA shop.
Our product reviews
What's the criteria for a good product?
It should improve our appearance and do no evil (to us or the planet).
How do you go about your reviews?
First, we scrutinize and research every ingredient (we have a directory of over 1000 ingredients on our website) in a serum, cream, shampoo, eyeshadow or whatever. Sometimes we'll reject a product on the basis of the ingredients alone. There are too many that don't do anything; too many that do evil (an irritant, a pollutant or a carcinogenic).
How to get involved
How can marketers get involved?
You can write comments about your products on Truth In Aging. But please fess up to who you are. Posing as a consumer is not okay, and we will invariably sniff you out. Feel free to send us products with the caveat that we publish unbiased reviews. We love being hooked up to your clients so that we can understand more about the products and the technologies behind them.
How can readers get involved?
You can comment and ask questions as often as you'd like. But we also love to make friends with new reviewers. If you want to write a review, either suggest something you'd like to write about or ask us to send you a sample product. Please also suggest things that you want us to write about or research for you. We'll even give you a view on your own skin regimen if you send in the details. Share as much as possible through comments on the blog, but if you are a little shy: email marta@truthinaging.com.
Why getting older doesn't have to suck
Supermodel Lauren Hutten was fired by L'Oreal when she turned 40 and, in an interview, she noted how the beauty and entertainment industries had made women her age invisible. That was 20-odd years ago and we are invisible no more. Charismatic, intelligent and strong women are beautiful at any and every age.