Snowberry Bright Defence Day Cream No. 1- reader reviewed and recommended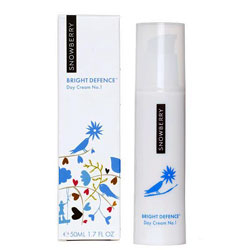 I thoroughly enjoy reviewing the wondrous products from TIA that Marta and her troop have pulled together for the community. The cornucopia of selections we are offered are sometimes a bit overwhelming to me, but all the new advances and products receiving great reviews really keep us motivated and informed. This is why I keep coming back to TIA – for the information on its product lines and for the wealth of information shared by all.
I was excited to do a review on the
Snowberry Bright Defence Day Cream No. 1
($59
in the TIA shop
). Yet I didn't know anything about the product, so when I received it and looked on the brand's website, I thought I had the wrong product. I thought it should've been Day Cream No. 2 because I have combination skin (Day Cream No. 1 is formulated for oily skin). But not to look a gift horse in the mouth, I jumped on it because I was in need of something light for the hot August weather and this was right in time.
Okay, this will be the shortest review I've given, and no doubt Marta will smile at this in disbelief, and maybe I'm lying as well. Anyway, if the Day Cream No. 1 is wrong for me, then I don't know if No. 2 will be right because No. 1 is wonderful. I really, really like this product! It's lightweight and keeps my cheeks moisturized and when I put on my makeup it looks great; throughout the day I can touch up my makeup and my face still looks moist and my pores don't show. My skin is looking pretty great. I am not an easy sell, even with freebies, so I always want to be sure I'm giving the product adequate testing time to see if there are any adverse effects. I'm happy to say the answer is no with this product; it works for me and I can't say enough good things about it. It's light and airy on the skin. And, even though it's for daytime wear, sometimes after cleansing my face before bedtime, without thinking, I just smear the Snowberry cream on my face and awake with skin that feels soft, dewy and not oily. That's so huge for me. I have very sensitive skin that will mark easily after a breakout, so I want something that won't irritate or aggravate my skin, but will nourish, moisturize and replenish it. Bright Defence Day Cream No. 1 is doing that for me. I'm so excited that now I want to try Snowberry's No. 2 and night creams to see if they will work for me as well.
Designed for oily skin, the Bright Defence Day Cream No.1 is a powerful blend of antioxidants, herbal emollients and skin-brightening agents that promote smoother, fairer and more even-toned skin at any age for women 18 and over. The Snowberry website is nicely laid out, easy to navigate and has some good information about the anatomy of the skin, enemies of the skin, ingredients to avoid, and how to protect the skin.
Here is a quote listed under Snowberry's philosophy page:
"People are like stained-glass windows. They sparkle and shine when the sun is out, but when the darkness comes, their true beauty is revealed only if there is a light from within." –
Dr. Elisabeth Kübler-Ross, 1926-2004
What more needs to be said? Isn't this what we all want on some level? I am certainly going to do all I can inwardly and outwardly to keep my light shining!
Shine on everyone!
Ingredients:
Aqua (Demineralised), Hydrogenated Lecithin & C12 - 16 Alcohols & Palmitic Acid, Dicaprylyl Carbonate, Prunus Armeniaca Annuus (Apricot) Kernel Oil, Saccharomyces/Xylinum Black Tea Ferment & Glycerin & Hydroxyethylcellulose, Sodium Palmitoylproline & Nymphaea Alba Flower Extract, Glycerine (Coconut), Hydrogenated Lecithin, Isoamyl Laurate, Glyceryl Caprylate, Sclerotium Gum, Rosa Canina (Rosehip) Oil, Octadecenedioic Acid, Phormium Tenax (Harakeke) Seed Oil, Phosphatidylserine, Parfum (p-Anisic Acid), Vitis Vinifera (Grape Seed) Extract, Hydroxyresveratrol, Parfum, Tocopherol (mixed), B-sitosterol & Squalane, Dimethylmethoxy Chromonal Palmitate, Dimethylmethoxychromanol, Tremella Fuciformis Sporocarp (mushroom) Extract