Your Best Face Hydrate B- reader reviewed and recommended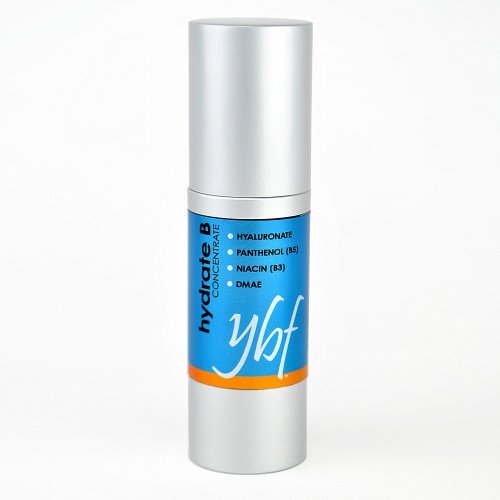 I've been using and testing
Your Best Face Hydrate B Concentrate
($45
in the shop
) for quite some time now, putting this interesting product through all sorts of tests. I've been in warm humid climates and freezing dry climates, so I really got a good sense of how this product performs.
Hydrate B uses three different forms of vitamin B along with
hyaluronate
 to help bind moisture and "draw moisture deep into the skin." The texture is a little bit hard to explain, somewhere between a gel and a serum. It sort of reminds me of the clear slime that a snail leaves behind – and strangely enough I don't mean that in a gross way. When you first put it on, for a moment it almost feels sticky, but right before that sticky feeling would actually bother you, it dissipates. And because the ingredients list is wonderfully simple and straightforward, it has no scent at all.
When I first received Hydrate B I was spending a month in Miami where it's warm and humid. And although this product doesn't feel like your typical moisturizer, I found it to be pretty effective. My skin felt and looked good. Zero irritation and a nice glow. I was using it by itself, and it seemed to be enough to keep my skin supple and moisturized. However, when I got back to New York City, where it's unbearable freezing and dry, I realized this product simply was not enough.
Looking on the
YBF website
, I learned that although Hydrate B can be used as a stand-alone product, it actually performs best when used underneath a moisturizer or serum. So I decided to conduct a little test of my own: on one side of my face I used just my moisturizer (which is currently
Raisin Face Skin Fix Concentrate
($20) – and I love it) and the other side I used Hydrate B 
and
 my moisturizer. I did the same thing with each hand as well. The difference was subtle, although definitely more noticeable on my hands. The side with the YBF addition was actually suppler and had a subtle dewy glow to it that wasn't present on the other side.
This unique product is a nice addition to really seal in moisture, especially in cold and dry climates. And it makes for a nice super light moisturizer for when it's humid and sticky out. I should also add that a little bit goes a really, really long way. So I would say it's a worthy addition to your skincare arsenal.
Ingredients:
Reverse Osmosis Water, Vitamin B5 (Dl-Panthenol), Syn-Hycan (Tetradecyl Aminobutyroylvalylaminobutyric Urea Trifluoroacetate, Magnesium Chloride, Glycerin), Sodium Hyaluronate, Vitamin B3 (Niacinamide), Vitamin B8 (Inositol), Sodium PCA, Leucidal (Radish Root Ferment Fiâ Ltrate)