Sciote Omni Phyto-Cell Serum
Size:
1.0 oz (30 ml)
Sciote Omni Phyto-Cell Serum is an all-in-one formula designed for users looking to reduce the appearance of fine lines, wrinkles, sagging skin, dryness and uneven skin tone. This powerful item utilizes potent actives and peptides to stimulate collagen production and repair damaged skin, while nourishing and protecting against aging elements. The result is skin that looks and feels rejuvenated, firmer and more radiant. Along with all of the products offered by Truth In Aging, we've made sure to
test and review
the Sciote Omni Phyto-Cell Serum, in order to guarantee it will provide you with dense, smooth and youthful skin. If you're on the lookout for the best and most powerful anti-ager, shop Truth In Aging today.
Sciote Omni Phyto-Cell Serum uses
Matrixyl 3000
to tighten and lift sagging and loose skin by stimulating the production of collagen and elastin, while a Peptide Complex Blend of amino acids vigorously hydrates the skin matrix, subsequently firming and strengthening the skin. These are blended with Phyto Stem Cells in order to regenerate skin stem cells, enhance translucency and fight against pro-aging agents, leaving you with remarkably younger-looking and luminous skin.
TIA Review by Lori:
I have been so blessed to get to try the Sciote Omni Phyto-Cell Serum. I'm in my late-30s and have somewhat oily, acne-prone skin. I am super sensitive and very prone to redness and irritation. I sometimes get these dry, itchy spots like little flaky islands in pools of oil. So yeah, I've got some weird skin. So I've found proper exfoliation and light moisture to be the best combination to keep those issues in check, and I obsessively read labels and research ingredients. Yep, life was good and my skin was normal for one brief moment in time.
Then, I found myself in this confusing, sweaty place called my late 30s. All my old friends were back: acne, oil, redness. They even brought some new friends along: sweaty, blotchy and the three things destined to be the bane of my existence, my horizontal forehead wrinkles. My search sent me on to new products with mysterious ingredients labeled "anti-aging." No longer could I throw heavy-duty acids and other harsh ingredients at my skin to clear it up. Those old remedies that used to work made my problems worse! I had to kick the chemical habit and seek a kinder, gentler solution. I've switched the greatest portion of my products to botanicals, organic and natural products. I'm always searching for the next best thing, and I'm here to tell you Sciote is a line that has it nailed.
If you've read my other reviews you know I LOVE ingredient lists that read like a recipe. This one is a little longer than I prefer and actually reads like some lovely items you could pick up in your backyard. Cucumber, periwinkle, geranium and dandelion extracts — I love it! Don't be fooled into thinking this is your run of the mill health food store brand; it also contains many heavy-hitters: Matrixyl 3000, Resistem, a peptide complex, and an ingredient of specific interest to me, Hyalurosmooth. The peptide complex is very impressive.
I was most interested in what this would do for my blasted forehead wrinkles. I checked the ingredients and found no bad guys, so I committed to nightly all-over treatment and daily spot treatment. Suggested use is once a day, but with no major irritants, I saw no harm in the twice daily. I know its petty, but I had trouble with the packaging again. The airless pump is great and dispenses the product well, but the top has to be in just the right position for it to snap back in place. Not a big deal but I try to think of everything. It took about a pump and a half to do full face and neck, and this stuff feels amazing going on. It spreads so well and doesn't dry out or cause any pulling of the skin. The aloe base gives it a great slip without the smothering feeling of silicone. No stinging, burning or irritation, no funky smells, no tightness or dryness, no greasiness.
And the results — oh, the results! IMMEDIATE plumping of the skin resulting in a smoother surface, sound familiar? A product that does exactly what it claims! Over the course of my four week treatment I never had any redness, irritation or breakouts from this product. It continued to consistently perform and its smooth texture worked great as a makeup primer. Over time, those outstanding initial effects started to hang around longer. Crow's feet are not really an issue for me, so when I spot-treated, I did my nasolabial folds and forehead. This product hands down has done more for my forehead wrinkles than any other product I have ever used, and I saw significant plumping in those marionette lines. With continued use, I could see a complete reversal in those forehead wrinkles. Sciote takes it beyond anti-aging; we're not just talking prevention but actual reversal of the signs of aging. I cannot recommend this product highly enough. Used in conjunction with the cream, the results are astounding.
Got Questions? Contact Us
read more
Our Take
by Lori I have been so blessed to get to try the Sciote Omni Phyto-Cell Serum ($130 in the shop). I'm in my late-30s and have somewhat oily, acne-prone skin. I am super sensitive and very prone to redness and irritation. I sometimes get these dry, itchy spots like little flaky islands in pools of oil.... read more
Was this review helpful?
Yes
/
No
0 member(s) found this review helpful
Deionized Aqua (Water)
Organic Aloe Barbadensis Leaf (Aloe)
Matrixyl 3000
Palmitoyl Triepeptide‑3
Kosher Vegetable Glycerin
Globularia Cordifolia Callus Culture Extract (Resistem)
Peptide Complex Blend (Sodium L‑Pyrrolidone Carboxylate and Sodium Lactate and L'Arginine and L‑Aspartic Acid and L‑Pyrrolidonecarboxylic Acid and Glycine and L‑Alanine and L‑Serine and L‑Valine and L‑Proline and L‑threonine and L‑Isoleucine and L‑Histidine and L‑Phenylalanine)
Cucumis Sativus (Cucumber Hydrosol)
Organic Simmondsis Chinensis (Jojoba Oil)
Cassia Angustifolia Seed Polysaccharide (HyalurosmoothTM)
Methylsulfonylmethane (MSM)
Hydroxyethyl Cellulose
Carrageenan Gum
Wildcrafted Vinca Major (Periwinkle)
Organic Glycyrrhiza Glabra (Licorice)
Wildcrafted Euphrasia Officinalis (Eye Bright)
Wildcrafted Ganoderma Lucidum (Reishi)
Organic Centella Asiatica (Gotu Kola)
Boswellia Serrata (Frankincense)
Tocopheryl Acetate (Vitamin E)
Sodium Benzoate
Potassium Sorbate
Ethylhexyl Glycerin
Organic Centella Asiatica
Organic Equisetum Arvense (Horsetail Plant Extract)
Pelargonium Gravolens (Geranium Distillate)
Organic Taraxacum Officinale (Dandelion Extract).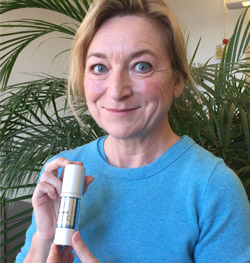 Play
How to Get the Most Out of Your Airless Pump (VIDEO)
Airless pumps are great because they keep your products fresher longer; but they can sometimes be tricky to work with! Here, Marta offers a few tips on how to get the most out of airless pumps.
Duration: 1:17
Apply 1 -2 pumps on deeper wrinkles and expression lines. Concentrating on areas where facial expressions are predominate. Can be used as an all over face treatment as well. Gentle enough to use morning and night. For normal to dry skin types.