Review
What's Working for Me Now
My current skin care regimen includes some exciting new discoveri ...
Read more
Review
Are Pricey Anti-Aging Products Worth It?
I was recently asked to review a $300 cream for hyperpigmentation ...
Read more
"Unbelievable!! First of all I am sick of a person or group saying that they support all women when in truth they only…"
Review
An Interview with Elizabeth VanderVeer of Volante
She wants us all to be more aware of "skinflammation" ...
Read more
"Thank you so much for taking the time to share with us. Simply Venom already has a loyal following amongst the Truth In…"
"Is it possible to get the recipe or if you are selling the product where can I purchase it? Thanks"
Review
An Interview With Brandon Truaxe, Founder of…
Meet the man who is shaking up the beauty industry in order to ma ...
Read more
"I did not purchase this product, I wanted to know what was in it. Then I found this site of complaints. I am glad I…"
Review
The Dangers of Purchasing Products From…
Why you should look to authorized retailers like TIA for skin and ...
Read more
Review
5 Skin Care Secrets an Esthetician Swears By
Turn your at-home routine into a spa-like escape. ...
Read more
"Yes! I read the article from Allure over the weekend regarding their new word choice and was so disappointed. I don't…"
Review
Darrell Owens of Your Best Face Answers…
"I want you to have the best possible experience with my produc ...
Read more
"I see. Without the term "anti-aging," it becomes difficult to to target older women for marketing purposes. If, to…"
"I put on very highly concentrated DMAE (oral drops) on my face once in a while. I also use other highly concentrated…"
Review
Learn How to Manage Your Skin Expectations
Managing expectations isn't about lowering them — done right, ...
Read more
"I've recently found this "review" of the R+F roller. Unfortunately it was the first link provided by a google search of…"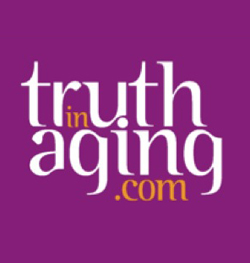 Review
Truth In Aging Philosophy
At Truth in Aging, we offer truthful and unbiased guidance to peo ...
Read more