Sciote Peptide+Defense Firming Youth Serum
Best of 2016: Firming Serum
Size:
1.0 oz (30 ml)
Sciote Peptide+Defense Firming Youth Serum uses a proprietary blend of amino acids, hyaluronic acid, vitamin A and Matrixyl 3000. This anti-aging serum helps to reduce fine lines and wrinkles by plumping and smoothing skin's surface, as well as stimulating collagen production to repair damaged tissue and lift sagging skin.
TIA Review by Cindy:
I am 51 and have combination skin with an oily T-zone. However, I live in the midwest, and my skin suffers from dehydration in the winter. I have some minor sun damage and hyperpigmentation, a few wrinkles around my eyes and the dreaded "elevens" between my brows. Recently, I have noticed a loss of elasticity, and gravity seems to be working against me (yes, my skin is sagging). I prefer to use clean, healthy and natural skincare products but have struggled to find a hydrating/firming serum that performs well. Most I have tried have been mediocre at best, with few or no visible results.
Now, on to the product. The Sciote Peptide+Defense Firming Youth Serum came in a sleek, sophisticated, 1 fl. oz (30ml) pump bottle. The product is designed for all skin types and contains a hydrating, nourishing peptide blend, hyaluronic acid, vitamin A, alpha hydroxy acid, matrixyl 3000 (which stimulates collagen and elastin production) and hexapeptide 3 (to relax facial tension and reduce lines and wrinkles). The company states that this serum will help "refine the appearance of wrinkles, even skin tone and texture and promote elasticity and firmness to the skin."
This product is a clear, unscented, light-weight serum that applies smoothly and absorbs quickly. The pump delivery system worked very well, and I used about one or two pumps every night. I have used this serum for about 30 days now, and while I don't know that it has "turned back the hands of time", I do feel my skin looks more radiant and bright. I have noticed a slight decrease in the lines between my eyebrows, and my laugh lines also seem to be less prominent. Overall, my skin looks plumper and more hydrated. I like that the serum contains a nice combination of anti-aging, moisturizing, firming, smoothing and cell regenerating ingredients. I was able to use this one product, rather than using three or four different serums (AHA, antioxidant and hyaluronic acid) that I had been using previously. This factor alone can justify the price tag. I also think my make-up goes on more smoothly and evenly in the morning, and I seem to be using less BB cream and concealer, which is an unexpected benefit.
In sum, this is a high quality product that delivers visible results without the undesirable ingredients found in so many others of its kind. I also like the company's philosophy and approach to creating quality skincare that is locally sourced and socially/environmentally conscious. This is exactly what I look for in a company. I have recently added the Firming Youth Cream to my regimen (which I apply after the Firming Youth Serum) and will be ordering the Firming Eye Serum, as well. I highly recommend this product line.
Got Questions? Contact Us
read more
Our Take
by Cindy Sciote is a Colorado-based company that is new to me, so I was excited to learn who they are and what is in their Sciote Peptide + Defense Firming Youth Serum ($105 in the shop). According to their website, Sciote's philosophy is to use the purest ingredients, be mindful of the environment... read more
Was this review helpful?
Yes
/
No
4 member(s) found this review helpful
Deionized Aqua (Water)
Hamamelis Virginiana (Witch Hazel)
Cassia Angustifolia Seed Polysaccharide (Hyalurosmooth)
Peptide Complex Blend (Sodium L‑Pyrrolidone Carboxylate
Sodium Lactate
L-Arginine
L‑Aspartic Acid
Glycine
L‑Alanine
L‑Serine
L‑Valine
L‑Proline
Lthreonine
L‑Isoleucine
L‑Histidine
L‑Phenylalanine)
Matrixyl 3000
Acetyl Hexapeptide‑3
Organic Simmondsia Chinensis (Jojoba Oil)
Retinyl Palmitate (Vitamin A)
Organic Centalla Asiatica (Gotu Kola)
Tocopheryl Acetate (Vitamin E)
Ethylhexyl Glycerin
Organic Equisetum Arvense (Horsetail Plant)
Organic Pelargonium Gravoleons (Geranium)
Organic Taraxacum Officinale (Dandelion)
Organic Aloe Barbadensis Leaf (Aloe)
Sodium Benzoate
Potassium Sorbate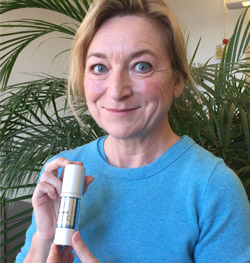 Play
How to Get the Most Out of Your Airless Pump (VIDEO)
Airless pumps are great because they keep your products fresher longer; but they can sometimes be tricky to work with! Here, Marta offers a few tips on how to get the most out of airless pumps.
Duration: 1:17
Apply 2-3 pumps daily to face, neck and decollete after cleansing.