Dimethicone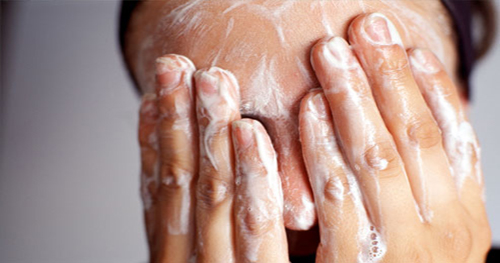 * A silicone based polymer. Also referred to as polydimethylsiloxane. For more info, read Silicones - Should we avoid them?.
Functions of Dimethicone:
One of the most widely used ingredients in cosmetics, dimethicone works as an anti-foaming agent, skin protectant and skin & hair conditioner- it prevents water loss by forming a hydrating barrier on the skin. Like most silicones, this ingredient has a unique fluidity that makes it easily spreadable. When applied to the skin, its known for creating a subtle gloss that feels smooth and silky to touch. It also acts a mild water repellent by forming a protective barrier on the skin, and can fill in fine lines/wrinkles on the face, giving it a temporary "plump" look.
Dimethicone is believed to perform a variety of useful functions, and many studies have been conducted to confirm these beliefs. In a Skin Research and Technology study, the ingredient was found to soothe and protect the skin of individuals suffering from sodium lauryl sulfate (SLS) induced irritant contact dermatitis (ICD), and even prevented the formation of ICD in some cases. Further tests have gone on to demonstrate dimethicone's effectiveness in treating contact hand dermatitis, and suggest that the protective barrier, which the ingredient forms on the epidermis, can effectively prevent skin infections. In addition, it works to reduce redness caused by rosacea and can function as an anti-inflammatory. For this reason, it is often used in conjunction with more irritating ingredients, particularly UV absorbers like titanium oxide and zinc oxide.
Most of all, the cosmetic industry values this ingredient for its powerful ability to keep the skin adequately lubricated, even during the driest and harshest winter weather. As a non-comedogenic ingredient, it provides a significant amount of emollience and coverage to the skin, without adding any heaviness. This, coupled with the fact that it can enhance the light refractability of other ingredients, makes it an excellent candidate for both color and sunscreen cosmetics. You can find dimethicone in practically every personal care product out there (especially skin care related ones), including facial moisturizer, body lotion, sunscreen, anti-aging serum, eye cream, foundation, facial powder, eye shadow, conditioner and hair dye.
Safety Measures/Side Effects of Dimethicone:
The Food and Drug Administration (FDA) has approved its use as a "skin protectant" ingredient in over-the-counter (OTC) drug products. Furthermore, the Cosmetic Ingredient review (CIR) Expert Panel reviewed the data surrounding dimethicone, and assessed it as safe to use in personal care products. They determined that because of the large molecular weight of silicone based polymers such as dimethicone, it would be very unlikely for it to penetrate past the surface of the skin.
Recommended Products with Dimethicone:
Amarte Eyeconic Eye Cream, jane iredale Dream Tint Tinted Moisturizer ($39 in the shop); Medik8 Firewall ($145 in the shop), M.A.D Skincare Youth Transformation Exfoliating Serum 10% AHA ($62), LATHER Daily Defense Facial Sunscreen ($24), Skinfinite Platinum PM Cream 1% Retinol ($79 in the shop), Stemulation Rescue Repair Hand & Body Treatment ($96), Osmotics Blue Copper 5 Prime ($138), Osmotics Blue Copper 5 Age Repair Body Lift ($95)
As much as possible, products in the Truth In Aging shop are chosen for their safety profile as well as effectiveness.