Ao Skincare Restore Serum Review
Pros
Hydrates, boosts radiance and plumps skin
Cons
None
Our Take
Loaded with good and lacking any bad, this is an all around great anti-aging serum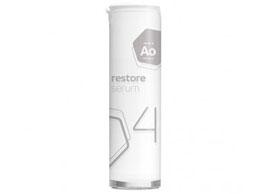 Our Rating:
By Teresa G.
At 51 years old, my main concerns are fine lines, uneven skin tone and other general signs of aging. My skin is fairly dry, although I do get an occasional pimple. I'm always interested in products that promise to bring back that youthful plumpness and radiance, so I was excited to be given the opportunity to test Ao Skincare Restore Serum ($119.95 in the shop).
I used Restore as directed after cleansing and toning my face in the evening. The smell is light and pleasant. It goes on silky-smooth and feels very lightweight. The serum absorbs easily without leaving any heavy or greasy residue. After it fully absorbed into my skin, I would follow up with a night cream. If your skin is oily, I suppose you could skip the additional moisturizer.
Restore is packed with peptides and vitamins. Key ingredients include spin trap, one of Marta's favorites in the fight against aging skin. It's a potent antioxidant that intercepts free radicals before they can cause damage, she says. Restore also contains sodium ascorbyl phosphate, a stable form of vitamin C, and boosts it with ferulic acid. Niacinimide (vitamin B3) is another powerful active in this serum. Looking even further into the ingredient list, I found another Truth In Aging favorite for firming and wrinkle releasing, copper peptide (bis copper acetate).
I can tell by the color of the product that it contains a fair amount of vitamin C, as I've used products in the past with the same brownish hue. The pump on the bottle makes the product come out perfectly and helps preserve the integrity of the actives by minimizing exposure to air.
Having used this product for at least four weeks, I do notice some improvement in texture and radiance, but am still anxious to see what benefits it will continue to provide. My pores appear smaller and my skin is more hydrated. I don't feel as dehydrated and can see a bit of plumpness coming back into my skin.
I look forward to seeing even more improvement as I continue to use this product in the coming weeks and will update the Truth In Aging community with continued results.
Ingredients in Ao Skincare Restore Serum
Water (Aqua), Aloe Barbadensis Leaf Juice, Panthenol, Ethoxydiglycol, Glycerin, Niacinamide, Sodium Ascorbyl Phosphate, Glycosaminoglycans, Cyathea Cumingii (New Zealand Tree Fern) Leaf Extract , Algae Extract, Artemisia Vulgaris (Mugwort) Extract, Vitis Vinifera (Grape) Seed Extract, Hydrolysed Keratin, Narcissus Tazetta Bulb Extract, Acetyl Octapeptide-3, Bis (Tripeptide-1) Copper Acetate, sH-Oligopeptide-1, Phenyl t-Butylnitrone, Crithmum Maritimum Callus (Sea Fennel) Culture Filtrate, Sodium Hyaluronate, Ferulic Acid, Palmitoyl Tripeptide-37, Mānuka Honey, Camellia Sinensis (Green Tea) Leaf Extract, Xanthan Gum, Disodium EDTA, Dehydroacetic Acid, Benzyl Alcohol
Is Ao Skincare Restore Serum Right for Me?
Packed with powerful peptides and antioxidants
Absorbs easily and layers well with other products
No nasty ingredients
Ao Skincare Restore Serum is a Solution for:
Age Spots, Dull Skin, Fine Lines, Hyperpigmentation, Large Pores, Sagging Skin, Sun Spots, Wrinkles