BRAD Biophotonic Ultra Elastin Cream Complex Review
Pros
Surprisingly light-textured for its heft
Cons
Tester found it too hydrating for summer
Our Take
Smooths wrinkles and skin tone making it a serum and moisturizer in one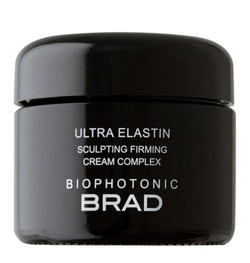 Our Rating:
Truth in Aging has introduced me to something that could be an expensive habit but might be worth the money. I was sent BRAD (yes, Brad) Biophotonic Skincare's Ultra Elastin Sculpting Firming Cream Complex to test. I still can't sort my way through its unclear claims, but I can tell you that my face and neck do feel firmer, brighter, and very happily hydrated since I started using it about four weeks ago.

I did guess right away that the line hailed from Los Angeles and immediately adored the notion that this "cult" brand (says Vogue) was originally designed around the needs of — and sold to — the oxygen and moisture deprived private jet traveler set. So, it's not so surprising that 1.7 ounces of Ultra Elastin (50 ml) sells for a stunning $195 (in the shop)!

I cannot tell you what biophotonic means in this context. I know photon means light, but of course this is a line of topical preparations. Turns out that the sleek and attractive jars are fashioned of black glass not just to say they're from LA. The "special density Miron glass, which blocks the spectrum of visible light" exposes the ingredients to "only life-giving violet rays that protect and improve [their] quality." Hmmmm. Mark's recent review of BRAD's Ultra Elastin Lift gave more credibility to this notion.

The second claim has to do with something called "bio-fermentation": the BRAD website says that it uses this process to "give BRAD's high-potency ingredients increased values, allowing them to be more easily absorbed and resulting in instantly transformed skin that continues to improve with daily use, irrespective of aging body chemistry." Wow! I've taken several detours around biochemistry sites but I still can't tell you what the brand means by formulating using oxygen or why these products work differently or resist oxidation compared with those ingredients synthesized in other ways.

The key ingredients are a very solid list of vitamins, natural oils, herbs, extracts, and butters, antioxidants, and something called multi-peptide bioferment, perhaps the BRAD secret. Glycolic acid is the third ingredient — presumably that explains the brightening; MSM doesn't get much respect from TIA and was a bit of a surprise. Propolis and Coenzyme Q10 are relatively prominent.

I have used it mostly as a night cream — though there's no reason not to use it in the mornings as well, especially if you're feeling particularly ancient, as I was earlier this month. And when I have, I've found it an excellent base for makeup. The cream is unscented, surprisingly light-textured for its heft, and absorbs beautifully. I'd say that it's improved my skin's tone and texture, kept my face and neck looking smooth and well-hydrated, and even, I think, provided some firming. It is definitely expensive (more expensive than anything I've used before) — but for the most part, I've skipped the use of serums while using the Ultra Elastin, so it may be a bit of a two-fer for some people. I'm not sure I'll use it year-round, but I do think I'll return to it when I feel I need help dealing with the winter elements.
Ingredients in BRAD Biophotonic Ultra Elastin Sculpting Firming Cream Complex
Biophotonic Purified Water, Organic Barbadensis Leaf Juice (Aloe), Organic Helianthus Annus (Sunflower Oil), Glyceryl Stearate, Kosher Vegetable Glycerin, Octyl Palmitate, Glycolic Acid, Organic Cocos Nuciffera (Coconut Oil), Squalane, Lactic Acid, Isopropyl Palmitate (Palm Oil), Hydrogenated Castor Oil, Methylsulfonylmethane (Msm), Theobroma Cocao (Cocoa Butter), Cetyl Alcohol, Cetearyl Alcohol, Cetearyl Glucoside, Stearyl Alcohol, Sodium Hydroxide, Potassium Stearate, Cucumis Sativus (Cucumber Distillate), Hyaluronic Acid, Sodium Ascorbyl Phosphate (Vitamin C), Organic Beeswax, Organic Simmondsia Chinensis (Jojoba Oil), Ubiquinone (Coenzyme Q10), Tocopheryl Acetate (Vitamin E Acetate), Retinyl Palmitate (Vitamin A Palmitate), Phytic Acid, Phospholipids, Dipeptide Diaminobutyroyl Benzylamide Diacetate, Vitis Vinifera (Grapeseed Oil), Organic Mahonia Aquifolium (Oregon Grape), Organic Camellia Sinensis (Green Tea), Camellia Oil, Persea Gratissima (Avacado Oil), Organic Euphrasia Officinalis (Eyebright), Helichrysum Gymnocephalum (Helichrysum Essential Oil), Organic Glycyrrhiza Glabra (Licorice), Cymbopogon Schoenanthus (Lemongrass), Butylene Glycol, Ascorbyl Palmitate (Vitamin C Palmitate), Acetyl Hexapeptide-3, Calophyllum Tacamahaca (Tamanu Oil), Organic Borago Officinalis (Borage Oil), Organic Linum Isitatissimum (Flax Seed Oil), Organic Oenothera Biennis (Evening Primrose Oil), Organic Rosa Canina, (Rose Hip Oil), Panthenol (Vitamin B5), Allantoin, Organic Arnica Montana (Arnica), Organic Lavendula Angustifolia (Lavender), Organic Calendula Officinalis (Calendula), Organic Anthemis Nobilis (Chamomile), Grapeseed Oil, Macadamia Integrifolia (Macadamia Nut Oil), Sodium Carbomer, Sclerotium Gum, Benzyl Alcohol, Potassium Sorbate, Tocopheryl (Antioxidant), Lecithin, Pyrus Malus (Apple), Citrus Medica Limonum (Lemon), Saccharum Officinarum (Sugar Cane), Xanthan Gum, Phenoxyethanol, Ethyl Hexyl Glycerin.

Is BRAD Biophotonic Ultra Elastin Sculpting Firming Cream Complex Right for Me?
BRAD Ultra Elastin Cream Complex is hydrating for dry skin
BRAD Ultra Elastin Cream Complex is anti-aging as well as moisturizer
BRAD Ultra Elastin Cream Complex is not suitable for oily skin
BRAD Ultra Elastin Cream Complex smooths wrinkles and evens skin tone