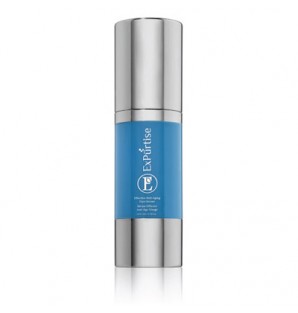 ExPürtise Effective Anti-Aging Face Serum
2016 Five Best with Matrixyl 3000
Size:
1 oz (30 ml)
ExPürtise Effective Anti-Aging Face Serum is a powerful anti-wrinkle serum that relaxes fines lines and boosts skin's radiance. With clinical concentrations of peptides and antioxidants, this serum delivers the crucial nutrients it needs to fight signs of aging from within. Shop our store with confidence, because each and every product here has been tested for at least 30 days and approved by
a real woman or man just like you
. Our reviewer saw real results with this impactful serum, and we're sure you will as well!
ExPürtise Face Serum firms skin by regenerating and restoring collagen and elastin fibroblasts, for a smoother and more lifted appearance. Matrixyl 3000, Matrixyl Synthe'6, Apple Stem Cells, Epidermal Growth Factor and a slew of vitamins encourage your skin to renew itself and promote your skin's health. Continued daily use of this serum reduces wrinkles and promotes even skin tone and radiance. This serum will leave all skin types pH balanced and smoother.
Tested for at least 30 days and reviewed by Gina:
I had never heard of the brand ExPürtise and being a big believer in serums, I was excited to try something new. I'm 52 years old and blessed to have good skin, partly due to genetics from my Hispanic grandmother and regular appointments with my dermatologist and esthetician. I didn't know the price or read any reviews of ExPürtise Effective Anti-Aging Face Serum before testing so I went into this test with no bias. One of the rules for being a TIA tester is that we are not allowed to do anything different during the testing phase. I was due for my quarterly Botox appointment that I had to postpone until after my jar of serum was finished.
One of the tell-tale signs of "it's time for some Botox" is when applying eyeliner. If I don't wait for it to dry with my eyes closed it will smudge verses when my eyes are lifted (after Botox) there isn't any upper eyelid getting in the way. For women over 50 you know what I'm talking about — for you youngsters, your time will come. But two weeks into using ExPürtise Anti-Aging Face Serum I noticed I wasn't having that problem anymore. Does it take the place of Botox? Sadly no, as it didn't have the same noticeable effect on my forehead. But let's be honest, that's a lot more skin to lift and it would be unrealistic to compare an injectable to a topical treatment.
I was religious about applying it every morning for 30 days — and almost as strict at night — however, I did miss a couple of evening applications.
This serum has some impressive ingredients, including Matrixyl 3000, a peptide that in one study was shown to have doubled the amount of protein collagen. There are also plenty of vitamins and antioxidants, which fight off free radicals. Plus, hyaluronic acid keeps skin hydrated. I also noticed the serum has apple stem cells, which is something I don't see often. They are said to have anti-aging properties and reduce wrinkles!
Another plus factor for me, which is just a personal preference, is that there is no perfume smell, which is a BIG turn off when using any facial products. I liked the clean, silky texture that quickly absorbed into my skin and worked well with my eye cream, moisturizer and sunscreen. The pump allowed me to control how much I wanted use — and I always used a full pump for my face and another full pump for my neck. But for those who don't want a full pump, you can dispense a small amount.
Now that my testing phase is complete I finally allowed myself to look up the company and their claims about ExPürtise Effective Anti-Aging Face Serum, which they say will "energize, revitalize and rejuvenate one's skin for a more youthful appearance." And I have to agree — It works! I did notice an improvement! My skin was smoother, firmer and my happiest surprise was the lift and firmness to my eyelids.
For me the bottom line is if I would pay full price for this product since my jar is now empty. It's not the cheapest serum out there, but I am willing to pay a premium for a serum that works. This one does. Like many of you, I have paid big bucks for lotions and potions thinking that because they are expensive they must be effective, only to be disappointed with the end results. I've used many, and I mean many, products over the years and I am happy to say you can purchase ExPürtise Effective Anti-Aging Face Serum with confidence knowing it will not be a waste of your money. The end result after a 30 day testing period? ExPürtise Effective Anti-Aging Face Serum gets a rating of 5 stars.
Got Questions? Contact Us
read more
Our Take
by Gina Fair I had never heard of the brand ExPürtise and being a big believer in serums, I was excited to try something new. I'm 52 years old and blessed to have good skin, partly due to genetics from my Hispanic grandmother and regular appointments with my dermatologist and esthetician.... read more
Was this review helpful?
Yes
/
No
3 member(s) found this review helpful
Water (Reverse Osmosis)
Glycerin
Caprylic/Capric Triglycerides
Butylene Glycol
Licorice Root Extract
Palmitoyl Tripeptide-5
Bearberry Leaf Extract
Vitamin C
Matrixyl 3000
Hyaluronic Acid
Matrixyl Synthe 6
Cocoa Butter
Shea Butter
Allantoin
Sodium Phytate
Linoleic Acid
Vitamin A
Vitamin C
Coenzyme Q-10
Vitamin E
Simulgel
Glyceryl Stearate SE
Sweet Almond Oil
Mica
Titanium Dioxide
Pro-vitamin B5
Vitamin K
Chrysin
[Certified Organic Extracts: Gotu Kola
Echinacea
Rosemary
Mango Seed Butter
Acai Berry
Blueberry
Matricaria Flower
Cranberry
Cucumber
Goji Fruit
Apple
Green Tea Leaf
Mangosteen Peel
Noni
Passion Flower
Pomegranate
White Tea Leaf
Grapefruit
Sesame Seed Oil
Gloularia Cordifolia Callus Culture]
Caffeine
Yeast Polysaccharides
Radish Root Ferment Filtrate (Leuconostoc).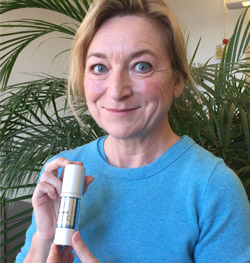 Play
How to Get the Most Out of Your Airless Pump (VIDEO)
Airless pumps are great because they keep your products fresher longer; but they can sometimes be tricky to work with! Here, Marta offers a few tips on how to get the most out of airless pumps.
Duration: 1:17
Smooth onto freshly cleansed skin and follow with your normal skin care routine.