La Vie Celeste Brightening Serum- reader reviewed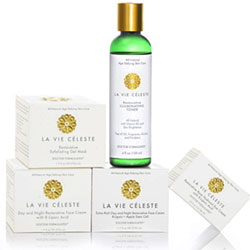 Reviewed by Kate
As a fan of the La Vie Celeste product line I was really excited to be chosen to trial a prototype of the
La Vie Celeste Brightening Serum
and felt fortunate to play a part in its product development. I've just recently started using more of
Dr. Teri Dourmashkin's
product line, such as the La Vie Celeste
Exfoliating Mother of Pearl Cleanser
, the
Restorative Exfoliating Gel Mask
, and the
Restorative Eye Cream
. These products seem to agree with my combination skin, which is mostly on the oily side in the summer and drier in the winter. The ingredients in all of these products are a combination of anti-aging heavy hitters along with plenty of organic or natural ingredients to cover all the bases. They are not too rich, and my skin just soaks them up.
When I was given the list of ingredients, I was pretty confident that I would enjoy adding the serum to my morning and evening regimen. Not only does the prototype include almost every weapon known to fight age- and sun-induced pigmentation (
arbutin
,
bearberry extract
,
niacinamide
,
ferulic acid
,
Oligopeptide-68
,
Tetrahydro Curcuminoids
), the list of antioxidant and anti-inflammatory ingredients is quite impressive (
milk thistle
, aloe, green tea, and many more). In addition, I was interested in trying a product that uses beta glucans. As Marta pointed out in her article "
Beta glucans- an anti-aging all rounder
" (Sept 2, 2012), researchers believe that beta glucan will not only promote healing, but also reduce scars and stimulate collagen. My 53-year-old skin has seen way too many hours of sun exposure. As a former "sun worshiper," I was really looking forward to a serum that promised to brighten my complexion and address my age spots. My overall complexion is not clear enough for me to feel confident to leave the house without at least a tinted sunscreen or a BB cream, for additional coverage.
The brightening serum is similar to La Vie Celeste's other products that I have tried. You feel like you're giving yourself a spa treatment at home. It's light, and my skin absorbs it quickly. There's no scent, it does not leave any stickiness as some serums do, and other products can be applied over it without pilling. As directed, I applied the serum all over my face each morning and evening after washing. Even though the directions said that it could be used around the eye area, I did not try it there (my regimen of
YBF Correct
and
AQ Eye Serum
are working wonders!). For the first week or two, I enjoyed using the brightening serum and did not feel the need to apply anything over it except my tinted sunscreen. For me, a good serum would be one that does everything – keep my skin soft without clogging my pores, protect it with plenty of antioxidants, and work to perfect it from the inside out with collagen boosters, etc. I know, the perfect potion or Holy Grail that we're all searching for!
With my combination skin, it's usually not until the start of winter that I feel the need to apply a moisturizer most days and every night. This is when the lack of humidity seems to turn the switch in my skin from producing oil by the gallons to seeing patches of flakiness – even in the dreaded oily T-zone. After the initial two weeks, I found that my skin started feeling dry. The weather where I live in Michigan has started to turn colder, but it just seemed to be too early for my skin to be making the switch. So I experimented with using another serum on half of my face and the LVC Brightening Serum on the other half. After two days, I concluded that the weather was not the culprit. I was a little surprised by this since I didn't find anything in the list of ingredients that might have caused the dryness – especially on my tough skin. I'm not getting the flakiness that I can get in the dead of winter though. It just feels dry to the touch, so I feel I would need to apply a moisturizer over it if I continued to use it as an allover serum. Am I being too picky and expecting a miracle in a bottle – one that brightens AND soothes my combination skin? Probably. So for the remainder of the bottle, I'll use it as a spot treatment and/or apply a moisturizer over it.
I have only been using the serum for four weeks, so it is too soon to see any dramatic results. I have noticed some lightening of one of my larger spots, and I did take "before" photos so I could track the progress while I use the rest of the bottle. The sample that I was given is very generous (thanks, Teri and Marta!), so I should get a few more months out of it. If the product continues its lightening effects on my age spots, I would certainly purchase it when it comes on the market. Would I recommend this product? It seems to be working, but it's too soon to call it yet so I will update my review in a couple more months.
Ingredients in prototype LVC Brightening Serum:
Water (Aqua), Propanediol (Corn Derived), Alpha-Arbutin, Arctostaphylos Uva Ursi (Bearberry) Leaf Extract, Oligopeptide-68, Caprooyl Tetrapeptide-3, Syringa Vulgaris (Lilac) Leaf Cell Culture Extract, Beta Glucan, Turnera Aphrodisiaca (Damiana) Leaf Extract, Caffeine, Polygonum Multiflorum (Fo-Ti) Root Extract, Allantoin, Silybum Marianum (Milk Thistle) Extract, Niacinamide, Anthemis Nobilis (Chamomile) Extract, Carnosine, Phyllanthus Emblica Fruit Extract, Sodium Hyaluronate, Aloe Barbadensis Leaf Juice, Tetrahydro Curcuminoids, Aesculus Hippocastanum (Horse Chestnut) Extract, Ferulic Acid, Di-Potassium Glycyrrhizinate, Camellia Sinensis (Green Tea) Leaf Extract, Wine Extract (Resveratrol), Tocopheryl Acetate, Punica Granatum (Pomegranate) Extract, Panthenol, Vaccinium Myrtillus Fruit/Leaf Extract, Saccharum Officinarum (Sugar Cane) Extract, Acer Saccharum (Sugar Maple) Extract, Citrus Aurantium Dulcis (Orange) Fruit Extract, Citrus Medica Limonum (Lemon) Extract, Sodium Oleate, Cetearyl Olivate, Hydrogenated Lecithin, Sorbitan Olivate, Glycerin, Dextran, Hydroxyethylcellulose, Potassium Hydroxide, Maltodextrin, Butylene Glycol, Disodium EDTA, Polyaminopropyl Biguanide, Citrus Paradise (Grapefruit) Seed Extract
is a Solution for:
Age Spots