Olie Biologique Huile Moderne 004 Hydrating Oil Review
Pros
Makes skin feel lovely
Cons
Is not very hydrating
Our Take
A soothing and pleasant oil that lacks hydration for drier skin types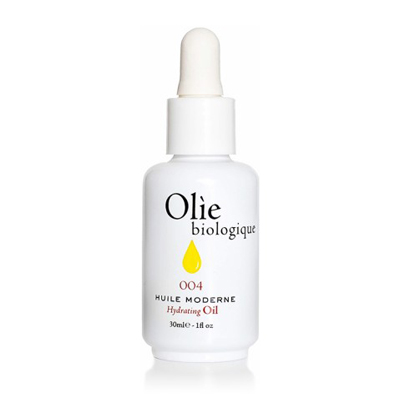 by Susan
I tested a travel-size version of the Olie Biologique Huile Moderne 004 Hydrating Oil ($78/full-size 30ml), which is enough for approximately two to three weeks, depending on how much you use. You are instructed to use it twice daily on your face, neck and cuticles. In that case, count on the product not lasting as long. The oil has a slight but delightful fragrance and is not greasy at all. It is a composite of organic argan oil, rosehip oil, neroli oil, bergamot oil and frankincense. Olie biologique's only claim is that this product hydrates your skin. It does not claim to reduce wrinkles or age spots, tighten skin, etc. It does mention smoothing of wrinkles, although there are no details as to the length of time needed for that or the depth of the wrinkle it's addressing. The different oils (argan rosehip, neroli and bergamot) work together to provide your skin with vitamin C, vitamin A, omega 3 and 6, also with antibiotic and therapeutic characteristics. This oil is also suitable for those struggling with psoriasis, acne, eczema and excessive oiliness
I used the product for approximately three weeks. Olie Biological Huile Moderne is a very soothing oil and absorbs very quickly into the skin. It is great to wear under make-up or to bed at night. It does not stain your pillowcases the way some oils may. Although it was pleasant to use, I personally saw no difference in my skin. I was expecting a product that would hydrate and moisturize my dry, 63-year-old skin, which due to Lupus never sees the sun. My skin felt lovely at the time I used it, but I had to be extra careful in wearing sunscreen and still found I needed a moisturizer.
For those of you, who do not have dry skin, it should be a great option for you. For those of us with very dry skin, well, we need a bit more help. Add a moisturizer or another oil to it, and you will see better results.
Ingredients in Olie Biologique Huile Moderne 004 Hydrating Oil
100% USDA Certified Organic Argan Oil, Organic Rosehip Oil, Natural Vitamin E, Bergamot Oil, Neroli Oil & Frankincense Oil
Is Olie Biologique Huile Moderne 004 Hydrating Oil Right for Me?
Has a subtle, delightful fragrance
Absorbs quickly and is not at all greasy
Is very soothing and pleasant to use
Requires another moisturizer if you have dry skin
Does not smooth wrinkles
Olie Biologique Huile Moderne 004 Hydrating Oil is a Solution for:
Acne, Combination Skin, Dry Skin, Dull Skin, Oily Skin, Uneven Skin