Suntegrity Natural Moisturizing Face Sunscreen and Primer Broad Spectrum SPF 30
Size:
1.7 oz (50 ml)
Suntegrity Natural Moisturizing Face Sunscreen and Primer SPF 30 is a 3-in-1 facial moisturizer, sunscreen and makeup primer. Zinc oxide provides broad spectrum UVA and UVB protection.This multi-tasker is formulated with organic ingredients and youth-promoting antioxidants, such as
astaxanthin
, to help provide additional sun protection, moisture and hydration. Non-nano sized zinc-oxide protects against UV damage and soothes skin conditions, like rosacea, acne and melasma.
Suntegrity has been featured in:
Allure

TIA Review by Marta:
Not only is Suntegrity Natural Moisturizing Face Sunscreen and Primer Broad Spectrum SPF 30 a rare sun protector that is based only on zinc oxide (no titanium dioxide and certainly no chemical sunscreens here), but- and I know that all you other antioxidant-files out there are going to be as excited as I was- it comes with astaxanthin.
This is a rather thick cream and if I am completely honest I'd prefer the consistency to be a little lighter. In the ruthless pursuit of science, I slathered it on to my nose for several days and was pleasantly surprised to find that it did not block or further enlarge the pores there.
The slight chalkiness that is typical of mineral sunscreens is evident for only a few moments and then seems to fade. Wear this over your serum and you won't need an additional moisturizer thanks to the aloe and hyaluronic acid.
The nicest thing about applying Suntegrity All Natural Moisturizing Face Protection SPF30 is that you get to think about some of the good things it is adding to your skin. Top of that list is, of course, astaxanthin, a dark red cartenoid pigment that is present, amongst other things, in salmon. A radical scavenger, analyses have shown that astaxanthin is also an efficient absorber of specific ultraviolet sunlight rays that may contribute to skin aging and cancer. It gets an antioxidant boost from red algae and pomegranate.
Got Questions? Contact Us
read more
Our Take
I like Suntegrity's mineral sunscreen range for face and body. The sunscreens are packed with antioxidants, including one of my favorites astaxanthin. However, I've always found the original Suntegrity facial sunscreen a little rich and heavy, requiring a little work to rub into the the skin... read more
Was this review helpful?
Yes
/
No
2 member(s) found this review helpful
Active Ingredient: Zinc-Oxide 20%
Aloe Barbadensis (Organic Aloe Vera) Leaf Juice
Capric Caprylic Triglycerides (Coconut Oil Extract)
Water (Aqua)
Sorbitan Stearate (Plant Derived)
Glyceryl Stearate (Plant Derived)
Polyglyceryl-4 Isostearate (Plant Derived)
Hexyl Laurate (Plant Derived)
Simmondsia Chinensis (Organic Jojoba) Seed Oil
Cetyl Dimethicone (Mineral Derived)
Magnesium Sulfate (Epsom Salt)
Helianthus Annuus (Organic Sunflower) Seed Oil
Cucumis Sativus (Organic Cucumber) Fruit Extract
Astaxanthin (Algae Source)
Hyaluronic Acid (Plant Derived)
Chlorella Emersonii (Red Algae) Extract
Camellia Sinensis (Organic Green Tea) Extract
Punica Granatum (Organic Pomegranate) Seed Oil
Citrus Grandis (Grapefruit) Essential Oil
Citrus Sinensis (Sweet Orange) Essential Oil
Citrus Reticulata Blanco (Tangerine) Essential Oil
Polyaminopropyl Biguanide*
Ethylhexylglycerin*
*Paraben-free anti-microbial agent.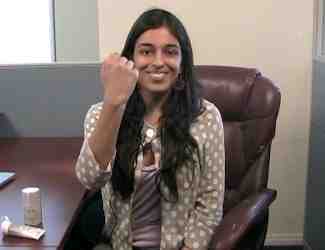 Play
Video: FDA-OK Sunscreens That Won't Leave Skin Chalky
Marta, and staff writer, Sarah, sit down, roll up their sleeves and apply two sunscreens that 1) are compliant with new FDA guidelines and 2) don't leave a white cast. Both the Lumixyl…
Store in a cool place. Apply liberally and evenly on face avoiding eye area 30 minutes before sun exposure. Reapply to dry skin every two hours or as needed, and after swimming, sweating or towel drying.