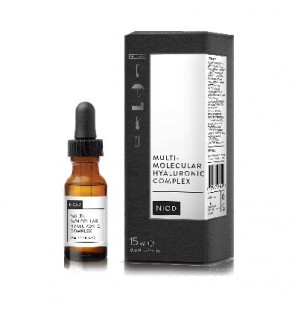 Deciem NIOD Multi-Molecular Hyaluronic Complex
Size:
0.5 oz (15 ml)
Deciem NIOD Multi-Molecular Hyaluronic Complex (MMHC2) is new and improved. It is a multi-dimensional approach to hydrating that features 12 different hyaluronic compounds. With a unique peptide-charged delivery system, this ultra-hydrating serum visibly plumps the skin for supreme comfort and suppleness.
Reviewer Kelly was impressed
by how nicely this serum plumped and hydrated her skin; try it yourself and see what she's talking about!
NIOD has sourced a dozen different types of hyaluronic acid in order to deliver hydration to as many layers of your skin as possible and quench your skin's thirst for moisture at the very deepest level. With mushroom- and teramind-derived hyaluronic compounds, fermentation-derived hyaluronic acid and hyaluronic acid crosspolymer among other compounds, look no further for the most hydrating serum on the market.
Tested for 30 days and approved by Kelly:
During the hot and sweaty month of August in Arizona, I was thrilled to be able to test and then provide this review of the new version of Deciem NIOD Multi-Molecular Hyaluronic Complex (MMHC2). For perspective, I'm 53 years old and postmenopausal. Also, my face easily breaks into a sweat the minute I'm in the heat - more so than any other part of my body.
There is a very thorough and excellent review of the former version of this product by Ann P. from March 2016 where she has detailed the various molecular weights of hyaluronic acid and their reported benefits. My regime incorporated the MMHC use after cleansing and then vitamin C serum twice per day.
The serum is clear and has a very thin texture. I was struck by how quickly and completely this was absorbed into the skin on my face and neck. In my previous experience with hyaluronic acid serum use, there was always a sticky residue that would usually pill up. There was none of that with this product as it was pleasant to use and felt like it 'sealed in' my serums and hydration. I did always follow with a moisturizer of some sort, usually in the form of sunscreen for the added protection.
MMHC has been a face saver for me with the evidence of benefit being my hydrated and happy skin in the last month of profuse sweating and sunscreen use. I typically would be applying heavy creams or oils at night in order to try to remedy the parched dry texture of my face. None of that has been necessary in the last 30 days and I couldn't be happier. I will be repurchasing for sure!
Got Questions? Contact Us
read more
Our Take
by Ann P. Hyaluronic acid can hold as much as 1,000 times its weight in water and although the body produces it naturally, the levels decrease as one ages, which is why it's an important part of my daily regimen as I near 50 and my skin becomes drier. I was a little hesitant to try the NIOD Multi-Molecular... read more
Was this review helpful?
Yes
/
No
1 member(s) found this review helpful
Aqua (Water)
Hydrolyzed Yeast Extract
Glycerin
Hyaluronic Acid
Sodium Hyaluronate
Sodium Butyroyl Hyaluronate
Sodium Hyaluronate Crosspolymer
Hydrolyzed Sodium Hyaluronate
Disodium Acetyl Glucosamine Phosphate
Tetradecyl Aminobutyroylvalylaminobutyric Urea Trifluoroacetate
Pseudoalteromonas Exopolysaccharides
Tamarindus Indica Seed Gum
Tremella Fuciformis Sporocarp Extract
Ceratonia Siliqua Gum
Myristoyl Nonapeptide-3
Plantago Lanceolata Leaf Extract
Salvia Sclarea Extract
Arginine
Aspartic Acid
Glycine
Alanine
Serine
Valine
Isoleucine
Proline
Threonine
Histidine
Phenylalanine
PCA
Sodium PCA
Betaine
Sodium Lactate
Epigallocatechin Gallatyl Glucoside
Gallyl Glucoside
Algae Extract
Sodium Salicylate
Lecithin
Polyglucuronic Acid
Xanthan Gum
Trisodium Ethylenediamine Disuccinate
Sclerotium Gum
Pullulan
Cetyl Hydroxyethylcellulose
Propanediol
Pentylene Glycol
Dimethyl Isosorbide
Citric Acid
Magnesium Chloride
Silica
Polysorbate 20
Ethoxydiglycol
Propyl Gallate
Dehydroacetic Acid
Benzyl Alcohol
Potassium Sorbate
Sodium Benzoate
Ethylhexylglycerin
1
2-Hexanediol
Caprylyl Glycol
Phenoxyethanol.
Apply after cleansing before the application of other skin treatments. Apply a small amount to the entire face.