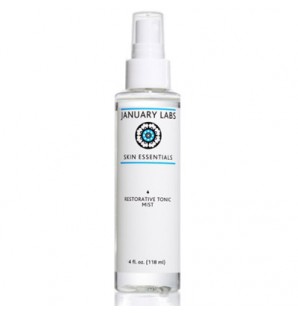 January Labs Restorative Tonic Mist
Size:
4.0 oz (118 ml)
January Labs Restorative Tonic Mist is an alcohol-free toner that reduces the appearance of pores and restores balance to your skin. Unlike so many toners that dry out the complexion, January Labs' formula hydrates as it calms breakouts and fights blemish-causing bacteria, so your skin will be left clear and soothed.
Our reviewer
liked how gentle and refreshing this mist was, so you can try it yourself with confidence that it'll work for you as well.
January Labs prides itself on treating skin care formulas like gourmet recipes, selecting only the best ingredients that each serve a specific purpose. Notable elements here include calming aloe, purifying witch hazel and moisture-attracting
sodium PCA
. Plus, natural botanicals such as olive oil, rosa centifolia flower, licorice and calendula extract provide your skin with the essential nutrients it needs and battle the impurities it doesn't.
Tested for 30 days and approved by Monica:
When I first opened the January Labs Restorative Tonic Mist, I was a little concerned because the packaging looks a little like something you'd see in a start-up store or on Etsy. Combined with not being aware of this brand before October, I was feeling a bit anxious about using it on my face. I've recently turned 30 and have combination skin, so I'm willing to try most anything that might make my skin look younger and healthier — but that willingness to try new products sometimes backfires…and my face has to deal with the consequences.
My first experience with using the Restorative Tonic Mist was a bit unfortunate, though I mostly blame myself for this — I should have thought to test spray the mist first. January Labs Restorative Tonic Mist comes in a clear bottle with a spray top (like you see on non-aerosol hair spray bottle). I'd already been warned that since January Labs doesn't use any artificial scents, the mist might smell a bit medicinal. The ingredients are clearly listed on the product, though, as well as directions, and after checking the ingredients list, I felt more comfortable using the product. So I washed off my makeup, did my regular cleansing routine, and then sprayed on the Mist before I put on my moisturizer. I generally use a daily alcohol-based toner (good old fashioned Olay), but I have tried a variety of toners both with alcohol and without — though all the ones with alcohol do seem to have better (though more harsh) success with keeping my complexion clear. I'm a big fan of witch hazel toners as it gets colder though, because it's less harsh on my skin than alcohol, but still provides the clean feeling. The January Labs Restorative Tonic Mist uses witch hazel, so I thought it might end up being a great toner. The mist did not have a medicinal smell when I sprayed it, which was good news to me, and really didn't have much of a scent at all. This is a plus for a product I might spray on my face a few times a day.
Unfortunately, other than the lack of scent, my first spray from the January Labs Restorative Tonic Mist bottle was disappointing and left me with spots of product all over my face. So I washed everything off and tried again. The second spray was much more even (less like I had flicked water onto my face). It did give a nice refreshing feeling to my face, but since I'd just washed my face, it seemed a bit like overkill. I decided that, going forward, I'd try to use it during the day rather than after my regular morning/evening routine. Along the same lines, I had thought to use this product in place of my toner for a month, but after reading up on the product, I don't think it's meant for that purpose. Unfortunately, I wasn't thrilled with the idea of regularly spraying anything on my face in 85 degree weather, so the product sat on my vanity for a couple of weeks. Then, as the weather started to get colder, I could feel my skin tightening up and drying out. I started using the mist 2-3 times a day to keep my face moisturized. And suddenly I went from "eh, I don't much care for this product" to "this product is great!"
I will say, for a product with so many ingredients meant to minimize blemishes, like witch hazel, aloe extract, licorice, and calendula extract, the product didn't really seem to improve skin imperfection or zits. For this purpose, I went back to using my alcohol-based toner morning and night. So, if you're looking for a product for problem skin, I'm not sure this is the product for you. However, if you have dry skin, live in a colder climate, or just like the idea of spraying your face at various intervals in the day, I'd give this product a try. My bottle has about a third of product left and I do intend to purchase more — at $24, it's a great price and, depending how often you use it, could last quite a while. It's definitely refreshing and I can absolutely see a difference in the feel and elasticity of my skin on days I use the spray versus days I don't. Overall, I recommend January Labs Restorative Tonic Mist for use exactly as the product name describers — a "restorative tonic mist" — not as a toner or any other normal face routine replacement, but as a nice pick-me-up for dry skin on a cold day.
Discount codes cannot be applied to this item.
Got Questions? Contact Us
read more
Water
Aloe Organic Aloe Vera Leaf Juice
Witch Hazel
Sodium PCA
Rosa Extract
Glycerin
Ethylhexylglycerin
Sodium Lactate
Polysorbate-20
Pro-Vitamin B5
Lime Oil
Licorice Extract
Horse Chestnut Extract
Hydrolyzed Yeast Protein
Calendula
Gotu Kola
Butcher's Broom Root Extract
Mist directly on face and throat, while keeping eyes and mouth closed. Use after cleansing or for a refreshing boost throughout the day.