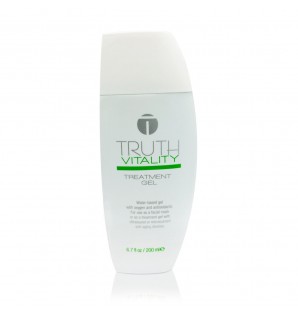 Truth Vitality Treatment Gel
Size:
6.7 oz (200 ml)
Want to try it before you buy it? Take home a free sample!
This refreshing, water-based gel can be used alone as a rejuvenating facial mask or with an ultrasound or microcurrent anti-aging device to complement and enhance treatment results. It's designed to expertly boost the benefits of the
Truth Vitality Lux Renew device
, as well as promote collagen production, treat acne, and hydrate skin for a youthful, dewy glow. The Truth Vitality Treatment Gel has
received positive reviews from members of the Truth In Aging community,
so you can feel confident that it will work for you!
The light-blue gel is packed with beneficial ingredients, such as hydrating hyaluronic acid, oxygen-boosting
perfluorodecalin
(which has also been used to heal wounds and treat acne), skin-clearing and free-radical blocking
milk thistle
, and green tea and vitamin C to improve the short-term antioxidant effects of LED light. The gel instantly revives dull complexions and restores needed moisture, leaving skin soft, supple, and smooth to the touch.
From Marta:
Microcurrent, LED and ultrasound are beauty breakthroughs offering real anti-aging benefits for firming and smoothing. For some time, I've been thinking about how to boost these benefits even more, and after much testing, I have created the Truth Vitality Treatment Gel.
I set myself four objectives:
1) To create a water-based gel that is pleasant and comfortable to use, providing coverage that lasts throughout the microcurrent and LED treatment.
2) For the treatment to also double as a face mask that can be used without a device.
3) For the ingredients to compliment and augment all the technologies – LED, ultrasound and microcurrent.
4) To help achieve an instantly refreshed complexion as well as provide long-term benefits.
The Truth Vitality Treatment Gel is a lovely, refreshing, light blue gel that helps increase oxygen to the skin. A key ingredient is perfluorodecalin, a perfluorocarbon that mimics the blood's ability to carry oxygen to the skin cells. It is used in wound healing therapies and for treating acne. Although I haven't found research to back this up, it is postulated that perfluorodecalin promotes collagen production. On the other hand, there is research showing that perfluorodecalin boosts moisture in the skin. It allows the skin to breathe to optimum levels and to self regulate better in polluted environments.
Then, I added in green tea and vitamin C. Scientists in China and Germany have shown that these ingredients improve the short-term antioxidant effects of LED light.
Ultrasound helps the skin absorb ingredients, and so the Treatment Gel also includes hydrating hyaluronic acid, as well as one of my favorite botanicals, milk thistle. This consists of about 80% silymarin (an antioxidant that protects against cell damage by blocking free radicals) and 20% fatty acids. Milk thistle is a wonderful cleansing agent and help rebalance the skin as well as help with acne and breakouts.
The preservative is the relatively gentle and benign ethylhexylglycerin.
At the end of your session, Truth Vitality Lux Renew can be completely rinsed away (although I prefer to simply wipe it away with a tissue, thinking of the benefits that the residue might still be bringing to my skin).
Got Questions? Contact Us
read more
Our Take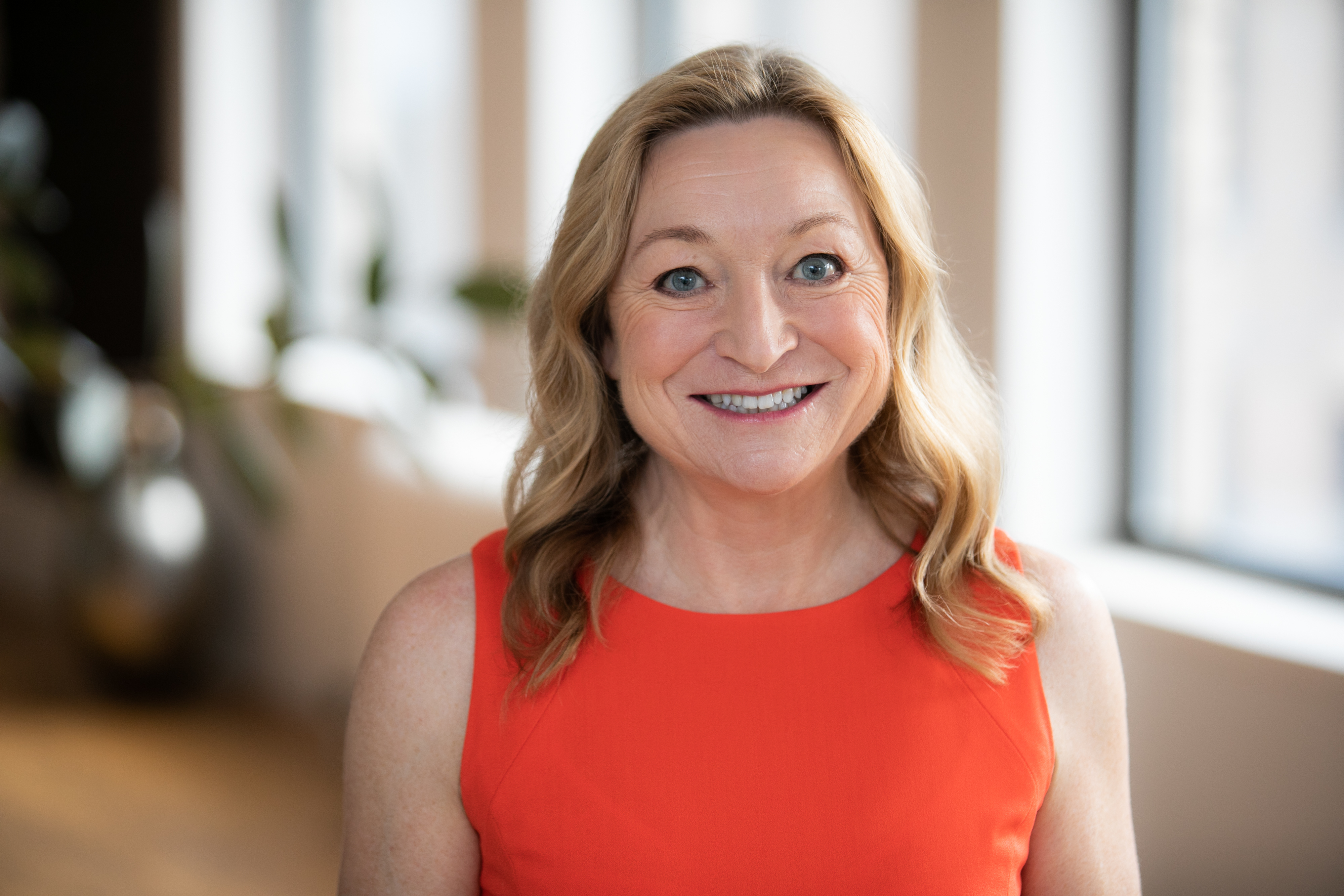 After much searching and experimenting to find a water-based serum or gel to use with the Ultra Renew in ultrasonic mode, I realized the only way I was going to get a decent product, at a reasonable price, giving me just the right amount of "slip" and the bonus of some really good actives... read more
Was this review helpful?
Yes
/
No
3 member(s) found this review helpful
Purified Water (Aqua)
Glycerin
Glyceryl Polyacrylate
Hyaluronic Acid
Perfluorodecalin
Camellia Sinensis (Green Tea) Leaf Extract
Sodium Ascorbyl Phosphate
Silybum Marianum (Milk Thistle) Seed Extract
Ethylhexylglycerin Tested on the Truth In Aging Community
never on animals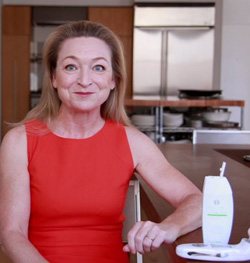 Play
All About Truth Vitality Treatment Gel (VIDEO)
When I set out to create an anti-aging product to be paired with a microcurrent or ultrasound device, there were a few things I kept in mind.
Apply in a thick, even layer to clean skin. If used as a facial mask, leave on for 15 minutes before wiping away with a soft tissue and rinsing with water. If used as a gel with an anti-aging device, leave on the skin for the duration of the session, following the device instructions. At the end of the session, wipe away with a soft tissue and rinse off any residue with water.