LIFTLAB Purify + Clarify Cleanser Review
Pros
Lightly exfoliates and hydrates, leaving skin feeling and looking soft, clean and bright
Cons
None
Our Take
A deeply replenishing 3-in-1 item that freshens and smoothes skin, while diminishing fine lines, large pores and broken blood vessels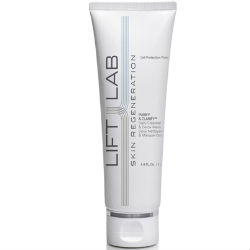 Our Rating:
I'm not a fan of most cleansers because they feel heavy and my skin feels like I need to wash it after using them. After doing some research on the science behind LIFTLAB Purify + Clarify ($65 in the shop) and its CPPs (cell protection proteins), I was anxious to give it a try.
Liftlab's patented CPPs are said to "promote the cell's own natural ability for self-repair and regeneration" by preventing free radicals and UV damage. Along with this, the use of natural enzyme exfoliants, pure oil softeners and botanicals for antioxidants was compelling.
I've used this cleanser every night and most mornings for 30 days, and as a mask twice a week. A little goes a LONG way, and I've barely used half of the sample product (a 1 oz tube).
It goes on damp skin evenly, and creates a lightly exfoliating cream when applied as directed. It has a very slight, pleasant, almost citrus fragrance, that dissipates quickly. It rinses off easily, with no apparent residue left behind...just clean, soft skin. At 66, my skin is neither dry or oily. I had no adverse effects from this cleanser and a lot of positive ones. In fact, I absolutely love this cleanser. I would even say more than any I've ever tried. My skin looks and feels soft, smooth and evenly toned.
I would definitely recommend this cleanser for any type of skin and I wish I'd had some while in my 40s. After just 30 days, I have fresher, tighter skin, while any enlarged pores, broken blood vessels and tiny lines are much diminished. The overall appearance of my face and neck is improved...more youthful, hydrated and brighter.
Now I'm anxious to try the rest of Liftlab's products. Thank you, TIA, for introducing me to yet another great product.
(I was awfully glad to have this cleanser after my trip to the circus last weekend! Purify + Clarify works great at taking off ALL KINDS of makeup.)
Ingredients in LIFTLAB Purify + Clarify: Daily Cleanser & Detox Mask
Water (aqua), myristic acid, glycerin, potassium hydroxide, stearic acid, peg-dipropylene glycol, lauric acid, olive oil peg-7 esters, crambe abyssinica seed oil, beeswax, peg-100 stearate, glyceryl stearate, cocamidopropyl betaine, hydrogenated jojoba oil, maltooligosyl glucoside, citrus aurantium amara (bitter orange) peel oil, hydrogenated starch hydrolysate, peg-40 hydrogenated castor oil, jojoba wax peg-120 esters, cetyl alcohol, phenoxyethanol, sodium chloride, ormenis multicaulis extract, butyrospermum parkii (shea) butter extract, tocopheryl acetate, tetrasodium edta, melia azadirachta leaf extract, melia azadirachta flower extract, amino esters-1, roe extract, coccinia indica fruit extract, solanum muricatum fruit extract, sodium hyaluronate, aloe barbadensis flower extract, fish plasma protein (cell protection protein®), disodium phosphate, pearl powder, ocimum sanctum leaf extract, ocimum basilicum (basil) extract, lawsonia inermis extract, curcuma longa (turmeric) root extract, sodium phosphate, tin oxide, synthetic fluorphlogopite, titanium dioxide
Is LIFTLAB Purify + Clarify: Daily Cleanser & Detox Mask Right for Me?
Has a slight, pleasant, citrus fragrance
Cleans skin, leaving it feeling and looking soft, supple and hydrated
Works to get rid of fine lines and broken blood vessels, while minimizing pores
Rinses off easily, leaving behind a bright and youthful complexion
LIFTLAB Purify + Clarify: Daily Cleanser & Detox Mask is a Solution for:
Combination Skin, Dry Skin, Dull Skin, Fine Lines, Large Pores, Oily Skin, Sensitive Skin, Uneven Skin, Wrinkles