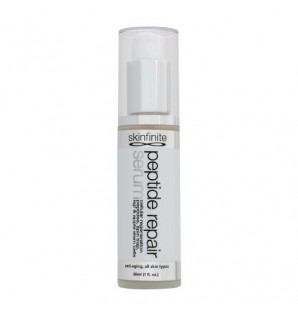 Skinfinite Peptide Repair Serum
Size:
1.0 oz (30 ml)
Skinfinite Peptide Repair Serum contains plant-based stem cells, peptides and growth factors to repair fine lines and wrinkles and stimulate collagen synthesis. This anti-aging serum also contains powerful antioxidants, such as alpha lipoc acid, CoQ10, spin trap and vitamin C, to protect cells against free radical damage. Paraben-free and suitable for all skin types.
TIA Review by Marta:
Skinfinite is deservedly popular for its quality ingredients and decent price points. I finally got around to testing the Peptide Repair Serum and found it to be a packed with many of the cutting-edge antioxidants and growth factors of more expensive products. And it worked well, especially on my forehead lines.
Although there is actually much more to Skinfinite Peptide Repair Serum than peptides, it is worth singling them out. The most dominant peptide in the formula is derived from rice and is a moisture-binding peptide. There isn't much information about it, but Rhonda Allison, who also formulates with it, claims it protects the skin from collagenase activity (collagenases are enzymes that break peptide bonds in collagen) and reinforces the natural lipid barrier of the skin. The other is rH-Oligopeptide-1 - comprised of up to 53 amino acids. It stimulates cell growth to repair wrinkles.
Standouts among the non-peptides are spin trap, a free radical scavenger, that is the signature ingredient of Your Best Face products. Carnitine is an antioxidant and anti-inflammatory. I particularly like thioctic (R-lipoic) acid and wonder why we don't see more of it. It seems to do lots of useful things such as helping to recycle other antioxidants, containing free radicals and serving as an anti-inflammatory. Then there is adenine, which is vitamin B4 and can help speed up the processes of producing energy in our body.
There are plenty of other good things and amongst the botanical extracts there is anti-inflammatory cassia alata (candle bush), apple stem cells, vitamin C packed phyllanthus emblica (Indian gooseberry) and antioxidant blackberry.
Having said all this, Skinfinite doesn't formulate for purists and there are a few unwanted items such as the potentially harmful preservatives,phenoxyethanol and sodium benzoate. Some might be put off by alcohol being the fifth ingredient, but I haven't found Skinfinite Peptide Repair Serum drying or irritating at all. Although it is a thin, lightweight serum I do not need to layer a moisturizer over it. Finally, it does have a distinctive, medicinal smell that isn't terribly pleasant but dissipates quickly.
Got Questions? Contact Us
read more
Our Take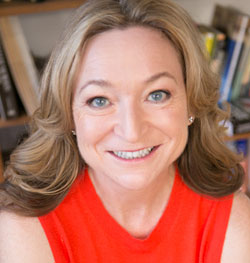 Skinfinite is deservedly popular for its quality ingredients and decent price points. Case in point: Skinfinite LOL Eye Serum ($49 in the shop) is a firm favorite with the Truth in Aging community. I finally got around to testing the Peptide Repair Serum ($69 in the shop) and found it to be a packed... read more
Was this review helpful?
Yes
/
No
1 member(s) found this review helpful
Aqua (Water)
Hamamelis Virginiana (Witch Hazel) Water
Glycerin
Alcohol
Hydrolyzed Rice (Peptide) Protein
Hydroxypropyl Cyclodextrin
Polysorbate 20
Butyrospermum Parkii (Shea Butter)
Xanthan Gum
Rubus Villosus (Blackberry) Fruit Extract
Hydrolyzed Corn Starch
Zea Mays (Corn) Starch
Hydrolyzed Corn Starch Octenylsuccinate
Cassia Alata Leaf Extract
Pearl Powder
Sea Salt
Acetyl Carnitine HCL (L)
Thioctic (R‐lipoic) Acid
Ubiquinone (CoQ10)
Adenine
Domestica (Apple) Fruit Cell Culture Extract
rH‐Oligopeptide‐1 (EGF)
Citrus Grandis (White Grapefruit) Peel Oil
Phenyl t‐Butylnitrone (Spin Trap)
Phyllanthus Emblica (Amla) Fruit Extract
Lonicera Japonica (Honeysuckle) Flower Extract
Lonicera Caprifolium (Honeysuckle) Flower Extract
Citrus Sinensis var. Sanguina (Blood Orange) Oil
Polysorbate 80
Sodium Benzoate
Phenoxyethanol
Gluconolactone
Potassium Sorbate
Lecithin
Phenethyl Alcohol
Caprylyl Glycol
Fragrance/Parfum
Paraben-Free
Gluten Free.
Apply daily to clean skin in morning or night. Suitable for all skin types.