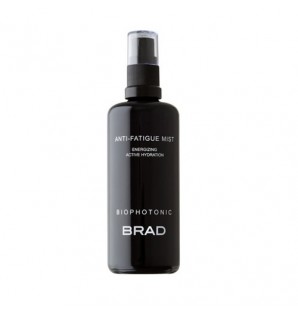 BRAD Biophotonic Anti-Fatigue Mist
Size:
3.4 oz (100.6 ml)
BRAD Biophotonic Anti-Fatigue Mist is an anti-bacterial and balancing toning mist that smooths, brightens and hydrates tired skin while also minimizing the appearance of pores.
Our reviewer
loved this refreshing mist, and we're sure you will as well!
This potent antioxidant tonic uses Colloidal Silver as a natural anti-microbial to promote healing; Bio-fermented plant acid blends minimize the look of pores and brighten the skin, leaving it energized and refined; Vitamin C protects skin from photo damage caused by UVA and UVB radiation, encourages cell renewal and a brightened skin tone; Noni stimulates the immune system; Camu Camu Berry improves circulation; Lavender and Geranium soothe irritation, calm the nerves and balance the mind.
Tested for 30 days and approved by Becky:
BRAD, oh BRAD, how your reputation precedes you! I couldn't wait to meet you after all the rave reviews from Marta and your other fans. I finally got my chance when offered the opportunity to review the BRAD Biophotonic Anti-Fatigue Mist. Was I about to have a mild flirtation with BRAD or a full on love affair? Read on...
I wasn't sure what to make of what seemed like a treatment spray. I am in my mid-40s and have used toners and also own the jane iredale Hydration Spray ($27) which I've used to set makeup. The BRAD Anti-Fatigue Mist carries an ambitious list of claims: hydration, anti-oxidant protection, soothing, revitalizing, improve circulation and even out skin tone. Some of the ingredients listed in this grand effort were familiar to me from my earlier skin care "dates" such as aloe, lavender, carrot oil, camu camu berry, R lipoid acid, and glycolic acid from fruit. Less familiar are the colloidal silver, oil of tamanu and morinda citrifolia, or noni (an anti-glycation agent). I'd heard of colloidal silver from my father's alternative medicine forays, but only as something to ingest - a practice with many detractors. Apparently, applying it to the skin is purported to help a multitude of conditions, including inhibit bacteria which may be the source of the anti-bacteria claims in this Brad product. I didn't find anything on the BRAD site itself about it. There is a lot of information on all sides of the argument for colloidal silver out there and I didn't follow the trail exhaustively. For me, there are too many unanswered questions about colloidal silver, particularly the possibility that it can build up in your body's tissues, to feel comfortable with it being placed so prominently near the top of the ingredients list.
Less controversially, oil of tamanu comes from Polynesia, contains fatty acids, and is known as a treatment for acne, acne scars, eczema and psoriasis (see Marta's look behind the hype) Morinda citrifolia also originates from Polynesia and has been clinically shown to help prevent cancer at its earliest stages. Both of these ingredients are much lower in the list.
I incorporated the BRAD Biophotonic Anti-Fatigue Mist into my daily routine by spraying it generously on my face, neck and hands in the morning and evenings before applying any other skin care product. I figured it would likely be equivalent to a treatment serum, just in a different format. The light smell is fresh and dissipates quickly. While the Anti-Fatigue Mist is supposed to be hydrating, I didn't think those effects lasted long. I've been in a few different climates during this testing period, Seattle and now Washington DC, where temperatures have jumped all over the place from mild to freezing. I wish the BRAD Anti-Fatigue Mist had done more to help my normal combo skin adjust to being much drier than normal.
The BRAD Biophotonic Anti-Fatigue Mist also claims to be good for travel which I have definitely been doing but the glass bottle is unwieldy for toting along. I transferred some to a plastic spray bottle but am wondering if removing it from the special Miron violet glass means the effects were diminished for these few days. The few times I was home during the day and wearing makeup, I did try out the Anti-Fatigue Mist and liked how it felt layered on top. My makeup stayed put (even non-waterproof mascara) and seemed refreshed.
So will I go out with BRAD again? I'd love to meet his "brothers" -- other products in the BRAD line -- but will probably keep the BRAD Biophotonic Anti-Fatigue Mist to occasional date status only.
Got Questions? Contact Us
read more
Our Take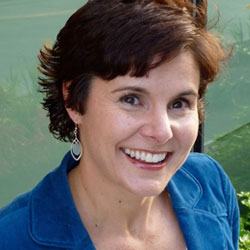 BRAD, oh BRAD, how your reputation precedes you! I couldn't wait to meet you after all the rave reviews from Marta and your other fans. I finally got my chance when offered the opportunity to review the BRAD Biophotonic Anti-Fatigue Mist ($65 in the shop). Was I about to have a mild flirtation... read more
Was this review helpful?
Yes
/
No
0 member(s) found this review helpful
Methylsulfonylmethane (MSM)
Colloidal Silver
Organic Aloe Barbadensis Leaf Juice (Aloe Vera)
Lavendula Officinalis (Lavender Distillate)
Pelargonium Gravolens (Geranium Essential Oil)
Polysorbate 20
Enzymes
Organic Camu Camu Berry
Citrus Grandis (Grapefruit Seed Extract)
R Lipoic Acid
Sodium Ascorbyl Phosphate (Vitamin C)
Multi Fruit Glycolic Acids
Calophyllum Inophyllum (Oil Of Tamanu)
Daucus Carota Sativa (Carrot Oil)
Morinda Citrifolia (Noni)
Jojoba Esthers
Propylene Glycol
Use anytime. Mist onto face and neck anytime skin needs energy.