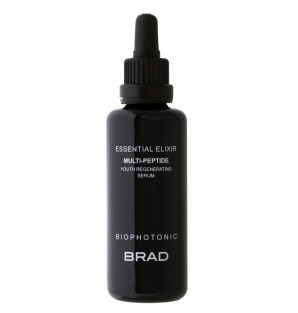 BRAD Biophotonic Essential Elixir Multi-Peptide Youth Regenerating Serum
Size:
1.7 oz (50 ml)
BRAD Biophotonic Essential Elixir Multi-Peptide Youth Regenerating Serum is a deeply hydrating, cell-renewing serum that penetrates the pores to repair tissue damage, improve the skin's firmness and elasticity, boost the production of collagen and elastin, and radically reduce the appearance of fine lines and wrinkles. It's packed with potent anti-aging nutrients, including bio-fermented
amino acids
and peptides, Tripeptide-3, and
hyaluronic acid
to moisturize, plump, and smooth aging skin. This serum has been
tested and reviewed by women in the TIA community
, like all of the products offered by Truth In Aging. So you can purchase this product now feeling confident that it will dramatically improve the health and appearance of your skin.
BRAD Biophotonic Essential Elixir Multi-Peptide Youth Regenerating Serum is lightweight, non-greasy, and suitable for all skin types. It contains a proprietary Crystal Freeze Bio-Infusion that soaks the skin with age-erasing nutrients, improving the firmness, tone, and texture of your complexion on a cellular level.
TIA Review by Marta:
This is an update of my original review because since then I have come to love this peptide serum more and more. I would rate BRAD Multi-peptide amongst the best products I have found. After a short break, I found myself missing its effects on my skin. It has now become my go-to night serum. Upon waking, my skin looks refreshed and feels so soft. It can get addictive.
This is a light serum with a strong smell of witch hazel, a very good antioxidant that is one of the dominant ingredients after a base of organic herbal infusions. There's also hyaluronic acid, but Essential Elixir is really about amino acids. There are more than a dozen at my count. And what is a peptide, but a chain of amino acids.
Amino acids are the proverbial building blocks of the body, accounting for the smallest molecular components of proteins. Because proteins are involved in every major process in the body, amino acids are essential to health. Of the 20 amino acids found within proteins, ten are manufactured by the body (alanine, asparagine, aspartic acid, cysteine, glutamic acid, glutamine, glycine, proline, serine, and tyrosine). The rest must be obtained from the diet and are thus called essential amino acids (arginine, histidine, isoleucine, lueine, lysine, methionine, phenylanine, theonine, tryptophan, and valine). Just to take one example from the essentials, arginine: it plays a pivotal role in cell division and the healing of wounds.
BRAD's Essential Elixir promises to "restructure, purify, nourish, and re-energize." After a slowish start (not much to report in the first couple of weeks), it began to suggest it might live up to that. But when it really kicked in (after four weeks), the results were tremendous. My skin looked like it had been on vacation - and it continues to be re-engergized. It is smoother and clearer and just healthy looking. It is even doing a good job on my neck. This is an excellent product, with nothing to dislike but a touch of phenoxyethanol.
Got Questions? Contact Us
read more
Our Take
At the start of the year I had some predictions for what was to come in 2013. In this video, I revisit my forecasts, which include everything from smart packaging to safer preservatives. Skin firming I have found breakthrough products that address sagging skin. These formulas, such as in La Vie Celeste... read more
Was this review helpful?
Yes
/
No
0 member(s) found this review helpful
Biophotonic Organic Herbal Infusion
Organic Aloe Barbadensis Leaf Juice (Aloe Vera)
Hamamelis Virginiana (Witch Hazel)
Hyaluronic Acid
Silk Amino Acid Blend (Sodium L-Pyrrolidone Carboxylate
Sodium Lactate
L'arginine
L-Aspartic Acid
L-Pyrrolidonecaboxylic Acid
Glycine
L-Alanine
L-Serine
L-Valine
L-Proline
L-Threonine
L-Isoleucine
L-Histidine
L-Phenylalanine)
Acrylates/C10-30 Alkyl Acrylate Crosspolymer
(2s)-2-Amino-5-Guanidinopentanoic Acid
Organic Simmondsia Chinensis (Jojoba Oil)
Retinyl Palmitate (Vitamin A)
Tocopheryl Acetate (Vitamin E)
Ethylhexyl Glycerin
Phenoxyethanol.
CV Skinlabs, BRAD and Red Flower - new to the shop (VIDEO)
These new finds have made it into my daily beauty routine. I love the simplicity of the CV Skinlabs line with its focus on healing troubled skin. BRAD, of course, is one of my latest heavy hitters…
Best of Truth In Aging Award Winners 2013 (VIDEO)
In this video, Marta announces Truth In Aging's very best anti-aging beauty products of 2013 and explains what it is about these anti-aging skincare products that made them so exceptional.
Duration: 4:48
Five Best Anti-Aging Serums of 2013 (VIDEO)
All anti-aging serums are not created equal. Watch this video to find out which anti-aging serums of 2013 made the Five Best list at TruthInAging.com.
Duration: 3:39
Use in the am or pm. After cleansing, smooth over face and neck.