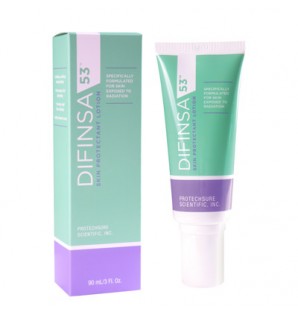 Difinsa53 Skin Protectant Lotion
Size:
3.0 oz (90 ml)
Difinsa53 Skin Protectant Lotion has been designed by a team of doctors to be intensely soothing, protective and reparative. With a featured ingredient derived from the milk thistle plant, this cream was originally designed to calm and restore the skin of cancer patients whose skin was suffering from radiation treatments, but it's equally effective for reducing fine lines and wrinkles and reducing rosacea flare-ups. This impressive active, silibinin, is also known to naturally protect skin from the harming effects of sun exposure. Difinsa53
speedily calmed a bout of rosacea on Marta's chin
, and also significantly reduced her stubborn lip lines; we're sure that you'll find it equally effective.
Difinsa53 works brilliantly as a protective moisturizer and cream with silibinin working triple-duty soothing skin, protecting from UV exposure and fighting free radicals. Additionally, aloe, niacinamide and hyaluronic acid offer nourishment and moisture as a small amount of dimethicone acts as a breathable silicone barrier to shield skin from the elements. This formula is non-greasy, fast-absorbing and hypoallergenic with a light, pleasant aroma.
Tested for 30 days and reviewed by Marta:
Have you ever wondered why more elephants don't die from cancer? Probably not, but its worth thinking about because there is an intriguing answer, which I came across while testing a very unusual cream called Difinsa53.
Difinsa53 Skin Protectant Lotion is built around an active ingredient called silibinin and was originally created to bring comfort and repair to the skin of cancer patients that had been blasted by radiation. The makers then had the thought that silibinin, derived from the milk thistle plant (and one of my favorite ingredients), had anti-aging potential and sent it my way. After testing Difinsa53 for a month, I am knocked out by its curative powers, as well as its impact on fine lines and wrinkles.
But more of this later. First I want to go back to the Difinsa53 story, starting with the elephants. So, as it happens, very few (less than 5%) elephants die from cancer and curious scientists eventually discovered that there is a gene called P53, which has a protein that is a cancer preventer. Humans have two copies of this gene. Elephants have over 40. If P53 detects a cancer cell, it goes out for the kill. Or in medical parlance it brings about apoptosis — cell death. Overall, it turns out to be a better strategy for survival than trying to save the cell.
Scientists put the elephant P53 in breast cancer cells in a petri dish and trumpeted that human clinical trials were just a few years away. This could be a little optimistic since transferring elephant genes to humans is bound to present a few hurdles. However, there is another option — activate the P53 we already have. And this is what silibinin does. Furthermore, it has been found that silibinin treatment prior to UVB exposure triggers sensors for UVB-induced DNA damage and signals DNA repair.
Silibilin (silymarin) is a compound in milk thistle. It can strengthen cell walls, stimulate enzymes that make toxins less harmful to the body, as well as block free radicals — responsible for signs of aging — from attacking cells, according to the National Cancer Institute. Studies have also shown that it helps rosacea and other skin ailments. I like this ingredient so much that I added it to the Truth Vitality Treatment Gel.
One of the impressive things about silibilin is its sun protection ability. Studies on mice looked at the formation of sunburn and apoptotic cells, skin edema, as well as other factors and found that the application of silymarin resulted in "statistically significant inhibition in UVB-caused sunburn and apoptotic cell formation, skin edema, depletion of catalase activity, (study by Santosh K. Katiyar et al).
The problem is, though, that humans metabolize silibinin very quickly (compared to mice). This led Dr Michael Glodé (a professor of medical oncology at the University of Colorado) and his team to look at topical use. Now topical silibilin is harder to achieve than it sounds. It won't dissolve in water or oil and needs to be at a neutral pH to penetrate the skin. The team solved all this with a patent-pending solution and set about trying to create a sunscreen. Along the way, one of the team members, Dr Gail Harrison, developed breast cancer and discovered that the prototype sunscreen was helpful for her radiation burned skin. And so Difinsa53 was born.
When I first got my tube to test, I was initially surprised to see a silicone (dimethicone) called out as the active ingredient. I then remembered the product's original use to help skin heal from radiation and dimethicone acts as a breathable barrier. There's also aloe, niacinamide and hyaluronic acid and, of course, a proprietary version of silibilin that is 95% pure.
Commencing my test happened to coincide with what had become a recurring and then severe flare up of rosacea, or some kind of reaction, all around my mouth and chin. Difinsa53 was an absolute godsend, giving me immediate relief from itching and tightness, and then within only a day or so taking down the redness. I had been in bad shape and the change was dramatic.
I continued using Difinsa53 and was pleased that every time I had a flare up, it was calming things down in no time. But would it prove to be more than a cream for bad skin days? Could Difinsa53 earn a place in my (crowded) anti-aging skincare routine? The answer is a resounding yes. I have plenty of little puckers and wrinkles around my mouth and Difinsa53 has been helping to smooth them out.
I would recommend Difinsa53 to anyone looking for a good antioxidant lotion. You don't have to have rosacea to appreciate it (but those sensitive skin types, like me, will get a lot from it). Once my skin settled down, I went back to using a serum with Difinsa53 layered on top as a protective moisturizer, knowing that hard-working silibilin is helping rosacea, protecting from UV, fending off free radicals and protecting against toxins.
Got Questions? Contact Us
read more
Our Take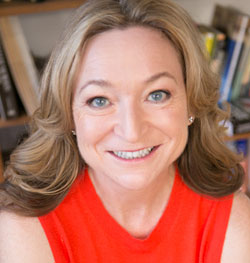 Have you ever wondered why more elephants don't die from cancer? Probably not, but its worth thinking about because there is an intriguing answer, which I came across while testing a very unusual cream called Difinsa53 ($62.50 in the shop). Difinsa53 Skin Protectant Lotion is built around... read more
Was this review helpful?
Yes
/
No
3 member(s) found this review helpful
Water
Dimethicone
Cetyl Alcohol
Sorbitol
Glyceryl Monostearate
Niacinamide
Silybum
Tocopheral
Polysorbate 80
Aloe Barbadensis
Prunus Amygdalus Dulcis Oil
Vitis Vinifera Oil
Glycine Soja Oil
Lavendula Angustifolia Oil
Anthes Nobilis Oil
Hyaluronic Acid
Phenoxyethanol
Caprylyl Glycol
Hexylene Glycol
Ethlhexylglycerin
Apply after cleansing and serums for skin that's protected and nourished day or night.