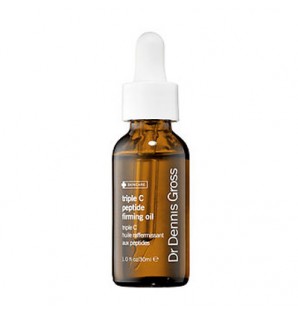 Dr. Dennis Gross Triple C Peptide Firming Oil
Size:
1.0 oz (30ml)
Dr. Dennis Gross Triple C Peptide Firming Oil is a complexion-brightening and hydrating oil formulated with three kinds of vitamin C and peptides to even skin tone, and prevent and repair signs of aging. These powerful actives strengthen your skin at the cellular level, encouraging cells to renew and repair themselves over time. With this luxurious oil, you'll see radiant, healthy-looking skin immediately.
Our reviewer
loved the results of this firming oil so we're sure it will leave you with your most beautiful, radiant complexion yet.
This Triple C Peptide Firming Oil boasts a triple complex of vitamin C to even out sun damage and pigmentation, while unique lipid-based peptide chains smooth your path to a stronger and firmer complexion. These scientifically advanced ingredients are suspended in wholesome botanical oils, including rosemary leaf, sweet almond and sunflower seed oils, for a deeply nourishing and moisturizing effect. And perhaps best of all, this product is vegan, paraben-free and cruelty-free.
Tested for over 30 days and reviewed by Marta:
When I told Dr Gross that I was most concerned about my lip lines, he was insistent that I incorporate his Triple C Peptide Firming Oil into my regimen. One month in, I am seeing a very subtle decline in my stubborn lip lines and overall my face is more radiant and—surprisingly firmer. Triple C Peptide Firming Oil lives up to its name in every respect.
There are three forms of vitamin C: ascorbyl glucoside, ascorbyl palmitate, and tetrahexyldecyl ascorbate. The first, ascorbyl glucoside is a stable derivative of vitamin C that research has shown to have antioxidant and skin lightening effects (more so than plain ascorbic acid). Ascorbyl palmitate is also known as vitamin C ester and has been shown to boost collagen production (the only vitamin that can do this) and works synergistically with vitamin E (also in this serum).
Since all good things seem to come in threes in this serum, there are three peptides: tetrapeptide-21, palmitoyl tripeptide-1 and palmitoyl tripeptide-28. The first of these goes by the name of TEGO Pep 4-17 and increases collagen synthesis, penetrating the skin well due to its small molecular size. Tripeptide-1 is said to stimulate the synthesis of collagen I and III, fibronectin and laminin. The third peptide is supposed to bind to a growth factor and mimic the natural regeneration of the extracellular matrix.
With collagen-boosting vitamin C and potent peptides, this serum should boast "firming" in its moniker. And deservedly so. After a month of use, I have really noticed the difference — especially around the jawline and the cheeks.
This is where my first (actually only) caveat comes in. If you don't like oily products, you might not like Tripe C Peptide Firming Oil. Initially, it feels very oily. The important thing to remember is that a very little of this serum should be applied. As a rule, I'm not wild about oils and I was worried that I wouldn't like this one. But I quickly got over that when I realized how rapidly and evenly it absorbs.
Dr. Gross could have inserted vitamins into his serum's title as well. In addition to all those Cs, there are vitamins K, A, D and E. I especially like the vitamin K, which you don't come across all that often as it is supposed to help with spider veins, and vitamin D, in which almost of all of us are deficient. But wait! There's vitamin H and F as well. I don't think I knew that the vitamin alphabet was so comprehensive. Vitamin F is linoleic acid and it is found in omega 6 fatty acids, while vitamin H is biotin (also more commonly known as B7).
The great thing about oil-based products is that don't require all the emulsifiers, solvents and preservatives that go into creams. So there's nothing to dislike here except for a dab of phenoxyethanol. And there is so, so much to love. This is really the best vitamin C product I have used and I'll be buying a replacement for sure. Although given that a little goes a long way, that will be some time off. Just remember, if you follow me in giving Dr. Dennis Gross Triple C Peptide Firming Oil a try, that it should be applied sparingly and left for a minute or two before layering any other products above it.
Got Questions? Contact Us
read more
Our Take
When I told Dr Gross that I was most concerned about my lip lines, he was insistent that I incorporate his Triple C Peptide Firming Oil ($62 in the shop) into my regimen (along with the Alpha Beta Peel and Moisture Cushion). One month in, I am seeing a very subtle decline in my stubborn lip lines and... read more
Was this review helpful?
Yes
/
No
2 member(s) found this review helpful
Squalane
Silica
Silica Silylate
Prunus Amygdalus Dulcis (Sweet Almond) Oil
Helianthus Annuus (Sunflower) Seed Oil
Ascorbyl Glucoside (Vitamin C)
Ascorbyl Palmitate (Vitamin C)
Tetrahexyldecyl Ascorbate (Vitamin C)
Rose Flower Oil
Tetrapeptide-21
Tocopheryl Acetate (Vitamin E)
Rosmarinus Officinalis (Rosemary) Leaf Oil
Oenothera Biennis (Evening Primrose) Oil
Palmitoyl Tripeptide-1
Palmitoyl Tripeptide-28
Retinol
Emblica Officinalis Fruit Extract
Ergocalciferol (Vitamin D)
Phytonadione (Vitamin K)
Retinyl Palmitate (Vitamin A)
Panthenol (Vitamin B)
Argania Spinosa Kernel Oil
Chlorella Protothecoides Oil
Hippophae Rhamnoides Fruit Extract
Lavandula Angustifolia (Lavender) Oil
Macadamia Ternifolia Seed Oil
Persea Gratissima (Avocado) Oil
Phospholipids
Prunus Armeniaca (Apricot) Kernel Oil
Pyrus Malus (Apple) Fruit Extract
Salix Alba (Willow) Bark Extract
Simmondsia Chinensis (Jojoba) Seed Oil
Geranium Maculatum Oil
Glycine Soja (Soybean) Oil
Sodium Hyaluronate
Linoleic Acid (Vitamin F)
Biotin (Vitamin H)
Butyrospermum Parkii (Shea) Butter Extract
Triticum Vulgare (Wheat) Germ Oil
Ubiquinone
Glycolic Acid
Lactic Acid
Salicylic Acid
Acrylates/Carbamate Copolymer
Ethylhexyl Palmitate
Ethylhexylglycerin
Butylene Glycol
Tribehenin
Caprylic/Capric Triglyceride
Hydroxyethyl Behenamidopropyl Dimonium Chloride
Bentonite
Corn Starch Modified
Mentha Piperita (Peppermint) Oil
VP/Eicosene Copolymer
Water/Aqua/Eau
Polysorbate 20
Carbomer
Glycerin
Curcuma Longa (Turmeric) Root Extract
Behenyl Alcohol
Sorbitan Isostearate
Cyclodextrin
Phytic Acid
Phenoxyethanol
Shake well. Apply 2-3 drops to clean dry skin in the morning or at night. Pat and gently press into face, neck, and décolleté, ideally after showering.