Truth Vitality Lux Renew with LED and Ultrasound
Truth Vitality Lux Renew is a hand-held, anti-aging device designed to diminish wrinkles and fight acne. Safe and easy to use at home, Lux Renew combines ultrasound technology with wrinkle-repairing red LED and blue LED light therapy for control of breakouts and acne. This unique 3-in-1 device will improve the skin's natural collagen, minimize fine lines, reduce redness and broken veins, and destroy pore-clogging bacteria.
Created in direct response to feedback from the Truth In Aging community, Lux Renew's effectiveness is backed by a successful 12-week clinical trial, as well as TIA product reviews from women just like you. You'll see immediate results — so give it a try and order now! Used with a topical gel or serum, Truth Vitality Lux Renew works painlessly and effectively on both the face and neck, and is suitable for all skin types. Lux Renew is safe, effective, and easy to use, delivering dermatologist-grade results from the comfort of your own home.
Ultrasound: There are five ultrasound settings. As the ultrasound waves pass from the treatment head into the skin, they prompt the vibration of the surrounding tissues, particularly those that contain collagen (note: you will not feel any vibration or tingling). Ultrasound improves muscle firmness.
Red LED Light: Red light wavelengths improve the skin's barrier function and enhance the skin's ability to generate new collagen, helping to reduce wrinkles, rosacea, and broken veins. By targeting water layers on elastin, facial wrinkle levels can be significantly reduced.
Blue LED Light: Blue light wavelengths penetrate the skin and produce singlet oxygen, which destroys acne-causing bacteria.
FDA-cleared for treating facial lines and acne
Truth Vitality Lux Renew: Clinical Data
At the end of the twelve-week clinical trial, the following improvements were measured:
Expert clinical evaluation:
Forehead lines/wrinkles – 79.3% showed improvement Facial (global) lines/wrinkles – 86.2% showed improvement Skin firmness – 79.3% showed improvement Radiance – 79.3% showed improvement Overall appearance – 89.7% showed improvement
Instrumental Evaluation:
Vapo Meter (TEWL) – 82.8% showed improvement Cutometer (firmness) – 100% showed improvement Cutometer (elasticity) – 79.3% showed improvement SIAScope (collagen) – 88.9% showed improvement Impressive numbers indeed, but as they say, a picture is worth a thousand words!
Truth Vitality Lux Renew: Before & After Photos
The following sampling of unretouched before-and-after photos from our clinical trial participants show the results of twelve weeks of using the Lux Renew.
Periorbital Lines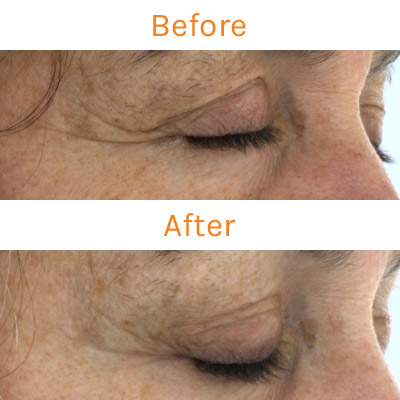 Eleven Lines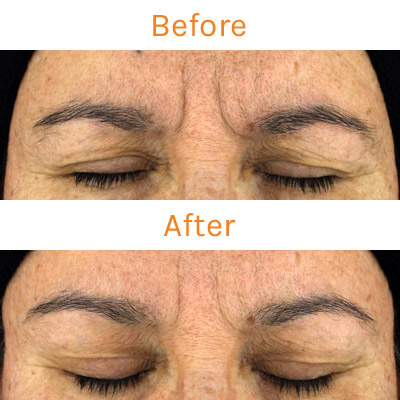 Marionette Lines

Check out the full results of our 12-week trial in this article.
From Marta: I am proud to announce that Truth In Aging has launched the first FDA-cleared beauty device with ultrasound, red LED, and blue LED therapy. Truth Vitality Lux Renew is a handheld device that unites ultrasound technology with red and blue LED light therapy, offering a revolutionary combination of at-home anti-aging treatments. Lux Renew is the only multi-functional device equipped with ultrasound and LED technology that has been approved by the FDA. Developed by Truth In Aging to address the skin care needs of its highly engaged community, Lux Renew is designed to safely deliver advanced anti-aging treatments from the comfort of home. FDA-cleared for treating facial lines and acne, Lux Renew has demonstrated visible results of clear, smooth, and firm skin with regular use. Effective on the face and neck, Lux Renew is suitable for all skin types and tones. Lux Renew's three modes of operation can be used sequentially (but not simultaneously) to target different skin care concerns:


Ultrasound improves the skin's elasticity and firmness by stimulating collagen in the tissues.


Red LED light wavelengths target water layers on elastin and improve the skin's barrier function, helping to reduce wrinkles, rosacea and broken veins.


Blue LED light wavelengths penetrate the skin and produce singlet oxygen, which destroys acne-causing bacteria.



For more information on the technology behind Lux Renew, refer to Truth In Aging's articles on therapeutic LED light and ultrasound Warranty: 1-Year Repair Guarantee: In the event that your Truth Vitality Lux Renew develops a fault within 12 months of purchase, please contact us. Got Questions? Contact Us
read more
Our Take
I am proud to announce the launch the first beauty device with ultrasound, red LED, and blue LED therapy. Truth Vitality Lux Renew ($279 in the TIA shop) is a handheld device that unites ultrasound technology with red and blue LED light therapy, offering a revolutionary combination of at-home anti-aging... read more
Was this review helpful?
Yes
/
No
23 member(s) found this review helpful
Introducing Truth Vitality Lux Renew by Truth In Aging (VIDEO)
Watch this video to learn more about Truth In Aging's Lux Renew, which combines ultrasound and LED technologies to add vitality and plumping to the skin.
The History of the Truth Vitality Brand (VIDEO)
In this video, I share the story of how I got into making my own beauty products — and how it all started with the TIA community.
How Truth Vitality Lux Renew Smoothes Wrinkles and Diminishes Acne (VIDEO)
How does Truth Vitality Lux Renew diminish signs of aging and fight acne? Watch this instructional video to learn how Lux Renew penetrates deep to improve skin.
Duration: 0:40
Quick User Guide: Use on a clean, dry face without makeup.
Connect the handpiece to the power adaptor and plug into a power outlet.
The Ultrasonic mode and the LED modes cannot be used at the same time, however, they may be used consecutively.
A water-based, topical gel or serum must be used with Ultrasonic mode to ensure conductivity. It is recommended that the water-based gel be applied to the thickness of a face mask
In Ultrasonic mode, the bars on the LCD display indicate the level of intensity. Start with the first level and increase if it is comfortable for you.
There are two LED lights: red = anti-wrinkle and acne treatment; blue = acne treatment. When using the LED mode, choose the setting accordingly. Note: LED does not require a water-based serum or gel.
The device will automatically switch off after 19 minutes. If you wish to continue your session after the 19 minutes, you must switch it back on.
For a shorter session, you can adjust the time. With your Lux Renew switched on, press MODE repeatedly to select Time in the display (it will flash). When Time is flashing, press SHIFT repeatedly to adjust to the time of your choice.
After use, a soft cloth should be used to wipe the device clean. Do not use water, chemical cleanser or dish detergent.
Precautions: Do NOT use Truth Vitality Lux Renew if you are pregnant or if you have an overactive thyroid.
Ultrasonic frequency: 3 MHz +/- 5% Red LED: 650nm Blue LED: 415nm Adapter input power: AC 100-120V Adapter output power: 15V, 400mA The Truth Vitality Lux Renew comes equipped with a US power adapter (AC 100-240V). This voltage is compatible worldwide, but international customers will need to purchase a local adapter from their local hardware store to use outside of the US.