Truth Vitality Lux Renew Review
Pros
Refreshes skin and gives it a lift
Cons
Requires long-term use to see dramatic results
Our Take
A comfortable and pleasant to use at-home treatment that helps skin look healthier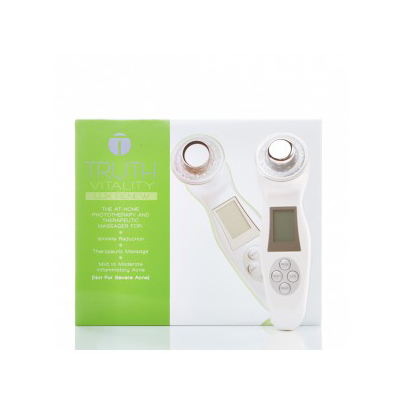 by Stacey
When the Truth Vitality Lux Renew ($279 in the shop) arrived at my door, I couldn't wait to open it and try it out! Neatly packaged inside was the unit itself and a pair of blue protective goggles. For some reason, my package came without instructions*, but Truth In Aging was quick to rectify this situation, sending them to me via email.
The Lux Renew is small and white, with a grip that fits nicely into the hand. On the front are the LED/Ultrasonic area itself, a readout screen, and four buttons: Mode, Shift, On/Off, and CFM. The unit does not have batteries but must be plugged in to operate. The unit allows you to select one of three modes: ultrasound at five different strengths, red LED lights for anti-aging, or blue LED lights for acne. The Lux Renew is FDA approved to treat using each of these three modes.
After reading the instructions carefully, I decided it would be prudent to do the patch test prescribed by TIA. Even though I had read the instructions, I had a hard time the first few go-arounds figuring out how to get it to work. I kept turning it off accidentally. Finally I got it going! I performed the ultrasound test on my arm using some ultrasound gel. The unit does not come with gel, but you can use a variety of products as described on the website. My ultrasound gel was purchased online for about $5. It is the same kind my doctor uses.
After the ultrasound test was complete, I set the LED lights to red and tested this on my arm also. I don't get acne, so I didn't bother with the blue light.
The next day, I checked my arm and saw no reaction, so I was ready to proceed with treatment! You can do both ultrasound and LED within the same treatment session, but you cannot do them at the same time. Since you must have clean skin for the LED, I began with that. I used the goggles to protect my eyes, because I quickly discovered that the LED can cause eye strain even if it's elsewhere on your face. I did the full 19-minute treatment length, moving the unit from area to area as described in the instructions. There was no discomfort, and the lights only emitted a very faint heat. I could even watch TV using the goggles, although I was happy to take them off and see better at the end.
After the LED treatment, I got ready for the ultrasound. TIA says that ultrasound can help products penetrate further into the skin, so I applied some antioxidant serum I have followed by a nice thick layer of ultrasound gel. The ultrasound vibrates slightly and is quite relaxing. I chose the highest level for my ultrasound. After treatment, I saw a nice immediate lift to my skin.
I did both treatments three times the first week and five times the remaining three weeks. I had no problems of any kind. My 40-something skin does look refreshed and healthy, which is impressive considering we're in the harsh winter months. I did not notice a dramatic change within that month, but I think that's because it takes time beyond the month for the collagen to build and show those kinds of results. I'm now continuing treatment and excited to see what the long-term effects are.
*Editor's Note: If you purchased the Truth Vitality Lux Renew and it did not include instructions, please contact us at: customerservice@truthinaging.com
Is Truth Vitality Lux Renew Right for Me?
Has a grip that fits nicely into the hand
LED causes no discomfort and lights emit only a very faint heat
Ultrasound vibrates slightly and is quite relaxing
Ultrasound gives a nice immediate lift to skin
Makes skin look refreshed and healthy
Requires long-term commitment for dramatic results
Truth Vitality Lux Renew is a Solution for:
Acne, Fine Lines, Sagging Skin, Wrinkles