Truth Vitality Lux Renew & Treatment Gel Duo - Save 20%
Collection Includes:
- Truth Vitality Lux Renew
- Truth Vitality Treatment Gel - 6.7 oz (200 ml)
Retail value:
$328
When used together, the
Truth Vitality Lux Renew
and
Treatment Gel
deliver superior ultrasonic and LED facial treatments from the comfort of home. The
Treatment Gel
can be used alone as a rejuvenating anti-aging facial mask, or with the
Lux Renew device
to improve the skin's elasticity, minimize fine lines and wrinkles, reduce redness, and destroy pore-clogging bacteria. Buy the Lux Renew and Treatment Gel together as a duo, and you'll save 15% off the total retail price!
Lux Renew's effectiveness is backed by a successful 12-week clinical trial,
as well as
TIA product reviews
from women just like you. The nutrient-rich Treatment Gel enhances the results of the device, which uses red LED light and ultrasonic waves to smooth wrinkles and even out skin tone, and blue LED wavelengths to clear blemishes and prevent breakouts. Lux Renew is safe, effective, and easy to use, delivering dermatologist-grade results from the comfort of your own home.
Directions:
Apply Truth Vitality Treatment Gel in a thick, even layer to clean skin. If used as a facial mask, leave on for 15 minutes before wiping away with a soft tissue and rinsing with water. If used as a gel with an anti-aging device, leave on the skin for the duration of the session, following the device instructions. At the end of the session, wipe away with a soft tissue and rinse off any residue with water.
Truth Vitality Lux Renew: Clinical Data
At the end of the twelve-week clinical trial, the following improvements were measured:
Expert clinical evaluation:
Forehead lines/wrinkles – 79.3%
showed improvement
Facial (global) lines/wrinkles – 86.2%
showed improvement
Skin firmness – 79.3%
showed improvement
Radiance – 79.3%
showed improvement
Overall appearance – 89.7%
showed improvement
Instrumental Evaluation:
Vapo Meter (TEWL) – 82.8%
showed improvement
Cutometer (firmness) – 100%
showed improvement
Cutometer (elasticity) – 79.3%
showed improvement
SIAScope (collagen) – 88.9%
showed improvement
Impressive numbers indeed, but as they say, a picture is worth a thousand words!
Truth Vitality Lux Renew: Before & After Photos
The following sampling of unretouched before-and-after photos from our clinical trial participants show the results of twelve weeks of using the Lux Renew.
Periorbital Lines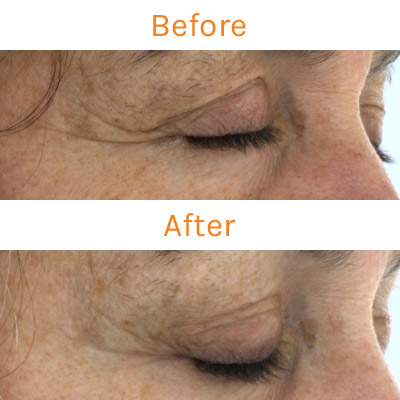 Eleven Lines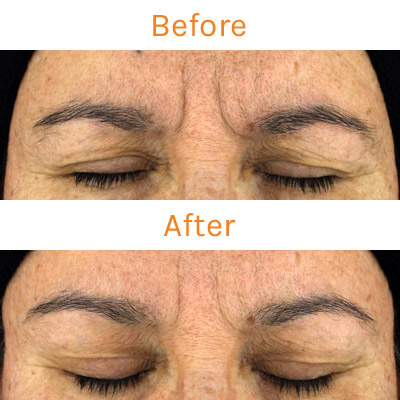 Discount codes cannot be applied to product.
Got Questions? Contact Us
Read more
Our Take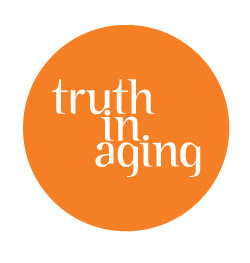 by Emily I was delighted to have the chance to test-drive Truth in Aging's newly released Truth Vitality Lux Renew ($279 in the shop). I was, in fact, already a convert, as I've used its predecessors for several years, ever since TIA first rocked my world with the introduction of an at-home... read more
Was this review helpful?
Yes
/
No
1 member(s) found this review helpful
Truth Vitality Treatment Gel: Purified Water (Aqua)
Glycerin
Glyceryl Polyacrylate
Hyaluronic Acid
Perfluorodecalin
Camellia Sinensis (Green Tea) Leaf Extract
Sodium Ascorbyl Phosphate
Silybum Marianum (Milk Thistle) Seed Extract
Ethylhexylglycerin
.

Quick User Guide:
Use on a clean, dry face without makeup.
Connect the handpiece to the power adaptor and plug into a power outlet.
The Ultrasonic mode and the LED modes cannot be used at the same time, however, they may be used consecutively.
A water-based, topical gel or serum must be used with Ultrasonic mode to ensure conductivity. It is recommended that the water-based gel be applied to the thickness of a face mask
In Ultrasonic mode, the bars on the LCD display indicate the level of intensity. Start with the first level and increase if it is comfortable for you.
There are two LED lights: red = anti-wrinkle and acne treatment; blue = acne treatment. When using the LED mode, choose the setting accordingly. Note: LED does not require a water-based serum or gel.
The device will automatically switch off after 19 minutes. If you wish to continue your session after the 19 minutes, you must switch it back on.
For a shorter session, you can adjust the time. With your Lux Renew switched on, press MODE repeatedly to select Time in the display (it will flash). When Time is flashing, press SHIFT repeatedly to adjust to the time of your choice .
After use, a soft cloth should be used to wipe the device clean. Do not use water, chemical cleanser or dish detergent.
Precautions:
Do NOT use Truth Vitality Lux Renew if you are pregnant or if you have an overactive thyroid.
Ultrasonic frequency: 3 MHz +/- 5% Red LED: 650nm Blue LED: 415nm Adapter input power: AC 100-120V Adapter output power: 15V, 400mA The Truth Vitality Lux Renew comes equipped with a US power adapter (AC 100-240V). This voltage is compatible worldwide, but international customers will need to purchase a local adapter from their local hardware store to use outside of the US.