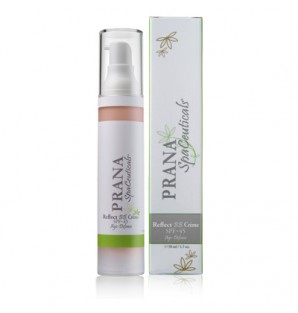 Prana Reflect BB Creme SPF 45
Size:
1.75 oz (50 ml)
Prana Reflect BB Creme SPF 45 is a lightweight day tinted moisturizer with SPF 45 enhanced with antioxidants and anti-inflammatory ingredients that protects against the harmful UVA and UVB rays. This handy multi-purpose formula acts as a subtle tint on the face, perfect for some moisturizing sun protection under makeup or on its own. It has the soft, gentle scent of cucumber and feels luxurious on the skin. And since this lotion has been
reviewed and approved by a member of the Truth In Aging community
, you can be certain it will leave you satisfied.
This silky moisturizing sunscreen utilizes natural ingredients such as Green Tea as a powerful antioxidant while Iron Oxides protect you from harmful sun damage. The Reflect BB Crème works for sensitive skin types and won't leave you with that pesky white film so many other sunscreens are plagued with. Apply to a clean dry face in the morning to moisturize and hydrate, while completely safeguarding your skin for the day. Reapply as needed, and keep your skin flawless and protected!
Note:
This product has recently been reformulated. We are currently in the process of re-testing it.
Tested for 30 days and recommended by Becky:
I am happy to report that I really enjoyed using the Prana Reflect Antioxidant Skin Cream SPF 45. The sun protection comes from 9% micronized zinc oxide and seemed to do a great job preventing sun impact. I was particularly looking out for any of my existing sun spots on my left cheek and tops of hands to get worse in the sun. They didn't, but I would have to test again in full sunlight over a longer period of time. Of course, I don't expect 100% protection from any product due to other variables, such as time spent in the sun and how frequently I reapply.
In addition, there is so much information out there about physical sunblocks like zinc oxide and titanium dioxide that I am confused about what combination to use and in what concentrations. Even doing some targeted research on TIA and other sites today didn't make anything clearer. I will leave it at this: this particular combination of SPF, concentration and ingredients worked very well for me during the testing period.
One of the reasons for that is the wonderful sensory experience of applying the Prana to my skin. It smells delightfully of fresh cucumber with a wonderfully smooth texture that blends in easily and quickly. There is a beige tint, which supposedly adds color but wasn't noticeable to me once absorbed. I found that the cream worked great as a makeup base as well, providing just enough of a mattifying effect to help my foundation apply smoothly and set well.
Besides the zinc, the other ingredients are very pure and were easily tolerated by my 45-year-old combo skin. I particularly appreciated the multiple antioxidants, especially alpha lipoic acid. I knew generally that this one is a heavy hitter but am now even more impressed after reading more about it on TIA and learning how it can repair past damage as well as add to the efficacy of other antioxidants - inside and outside the cell membranes. I was already in the habit of layering antioxidants with my sunscreen and will now look specifically for alpha lipoic acid when I do so in the future.
Prana Reflect Antioxidant Skin Cream SPF 45 is an excellent and enjoyable product at a decent price point. I'd buy it again and hope I have a "sure thing" trip to the sun soon!
Got Questions? Contact Us
read more
Our Take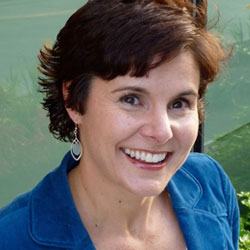 "It WILL be sunny on my one vacation this year!" "It WILL be sunny on my one vacation this year!" "It WILL be sunny on my one vacation this year!" Nope. Wasn't sunny. Magic incantation failed. Not until four days of my seven-day Mexican yoga vacation had passed,... read more
Was this review helpful?
Yes
/
No
0 member(s) found this review helpful
9% micronized zinc oxide Purified Water (Aqua)
Caprylic/Capric Triglycerides
Sodium Hyaluronate
Squalene
Sunflower Extract
Safflower Extract
Plantain Oil
Sesame Seed Oil Extract
Thioctic (Alpha Lipoic) Acid
Buddleja Davidii Stem Cells
L-Ascorbic Acid (Vitamin C)
Tocopheryl (Vitamin E)
Mica
Bismuth Oxychloride
Iron Oxides
Caprooyl Tetrapeptide-3
Adipic Acid/Neopentyl Glycol Licorice
Allantoin
Cucumber Extract
Alpha Bisabolol (Chamomile)
Grape Seed Extract
Green Tea Extract
and Wheat Protein Amino Acids
Directions: Apply to a clean dry face. Apply in the A.M. to moisturize and hydrate, while completely safeguard your skin for the day