Truth Vitality Advanced Complex and Clearly Emu Ultra Clear Emu Oil Duo: SAVE 20%
A power duo to bring volume and shine back to tired, thinning hair. Buy them together and save.
Duo Includes:
Truth Vitality Advanced Complex x 1.0 oz (30 ml)
Clearly Emu Ultra Clear Emu Oil x 2.0 oz (60 ml)
The Truth Vitality Advanced Complex
is a one of a kind, all natural hair serum uses copper peptides and Capixyl as the active ingredients to stimulate healthy hair growth and reduce shedding. It is designed to help women with thinning hair, especially due to hormonal change at menopause and post-partum (although men can use it too!). Suitable for all hair types and safe for blondes, chemically colored or treated hair. Truth Vitality Advanced Complex has been tested by 125 people and 70% saw hair growth and reduced shedding. It is not tested on animals and suitable for vegans.
Clearly Emu Ultra Clear Emu Oil
is certified fully refined grade A emu oil, the most potent type of emu oil available on the market today. It has a unique blend of fatty acids, such as Omega 3, 6, and 9, that are known to have anti-inflammatory properties and can lead to the growth of thicker hair by both a thickening of existing hair shafts and an awakening of dormant hair shafts.
Directions:
Apply
Emu Oil
sparingly to a damp scalp, avoiding the hair shaft as much as possible. Then, rub
Truth Vitality Advanced Complex
into hairline, other areas with thinning hair, or if desired the entire scalp. One pump is sufficient for targeting sparse areas; two pumps for use on the entire scalp. Then dry and style hair as usual. For best results use daily.
Discount codes cannot be applied to this product.
Got Questions? Contact Us
Read more
Ingredients in Truth Vitality Advanced Complex: Water
Propanediol
Glycerin
Cellulose Gum
Butylene Glycol
Dextran
Acetyl Tetrapeptide-3
Trifolium Pratense (Clover) Flower Extract
Magnesium Aspartate
Zinc Gluconate
Copper Gluconate
Lysine
Glycine
Serine
Citruline
Histidine
Ethylhexylglycerin
Disodium EDTA Ingredients in Clearly Emu Ultra Clear Emu Oil: Certified Fully Refined Ultra Clear Emu Oil
Play
How to use Hair Vitality Complex (VIDEO)
Hair Vitality Complex from Truth In Aging is a treatment to help healthy hair growth. Launched in March 2012, it is already bestseller in the Truth In Aging shop. It is for women and men with…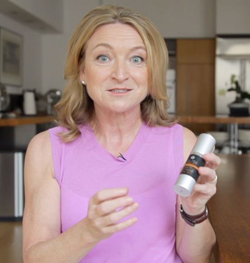 Play
The Truth Vitality Collection (VIDEO)
In this video, learn how our Truth Vitality Collection uses cutting edge ingredients to stimulate hair regrowth and help with hair thinning and shedding.