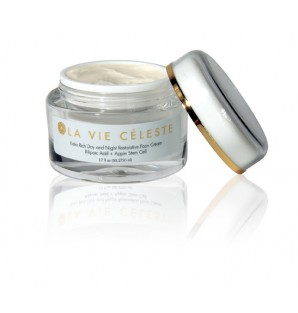 La Vie Celeste Extra Rich Day & Night Restorative Face Cream
A Five Best Moisturizer of 2016
Size:
1.7 oz (50 ml)
La Vie Celeste Extra Rich Day & Night Restorative Face Cream is a hydrating and firming moisturizer that is targeted towards people who want a product to lift sagging skin and minimize the appearance of fine lines and wrinkles. This cream, which can be used both day and night, contains a number of organic ingredients to deeply moisturize, without feeling heavy or clogging pores. In order to make sure La Vie Celeste Extra Rich Day & Night Restorative Face Cream provides the efficacy and results it promises, Truth In Aging has
tested and reviewed
it to ensure that you get a powerful moisturizer that will smooth and firm your skin. For more products that work to revitalize and hydrate your complexion, shop Truth In Aging today.
La Vie Celeste Extra Rich Day & Night Restorative Face Cream uses the peptide ChroNOline to increase firmness in skin that is sagging, as well as diminishing the appearance of fine lines and wrinkles.
Argan Oil
offers the skin vitamin E and other beneficial fatty acids.
TIA Review by Marta:
La Vie Celeste Extra Rich Face Cream with R-Lipoic Acid, Chronoline and Apple Stem Cells is not only gorgeous to use (luxurious without being overly unctuous), but it functions well by moisturizing and hydrating without feeling heavy or pore congesting. Personally, I think that this cream will please a broad spectrum of folks - those like me who are a bit cautious of anything too rich and those like a friend of mine who probably wouldn't even balk at putting something the texture of cream cheese on her face.
I used it as an above-serum moisturizer, on its own on my neck and hands and as a night cream. Because my skin is slightly oily, I might not use this every day in the warmer months. But in dry climates or for a parched skin, Extra Rich could become indispensable.
Like other La Vie Celeste products, the ingredients in their Extra Rich Face Cream are natural and organic. The star of the show is caprooyl Tetrapeptide-3, the commercial name is ChroNoline. It is thanks to ChroNoline that this cream is one of the few I can really recommend to help against sagging skin.
Caprooyl tetrapeptide-3 is derived from a growth factor, namely TGF-B and stimulates production of laminin 5 (as well as collagen VII). Tetrapeptide-3 is also supposed to be pretty good at beefing up fibronectin (by 60% apparently). Fibronectin funtions in ways that are similar to laminins, which are important anti-saggers. It also plays a crucial in wound healing and was established in the early 80s that it is critical to healthy skin.
I love that baobab seed oil is here. The baobab is one of my favorite trees. It looks as if it is growing upside down, with its roots in the air and in its native Africa is the subject of many myths. It is a powerful antioxidant.
La Vie Celeste has given this cream some anti-aging umph with apple stem cells. And as with the eye cream and La Vie Celeste's much lighter day/night cream, there is spirulina, a powerfully antioxidant algae with omegas, amino acids and a boatload of vitamin B. In addition, there's an abundance of botanical antioxidants such as marigold and pomegranate. Finally, no La Vie Celeste product would be without r-lipioc acid, an antioxidant that helps overcome vitamin C and E deficiencies.
Got Questions? Contact Us
read more
Our Take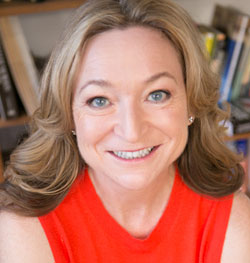 I am always being asked for a recommendation for a rich face cream and beyond April Rain and SenZen's Infinity (which, frustratingly, isn't available again until later in the summer), I don't have much of an answer. The problem is that I just haven't come across many good rich... read more
Was this review helpful?
Yes
/
No
0 member(s) found this review helpful
Water (Aqua)
Rosa Damascena (Rose) Flower Water
Argania Spinosa (Argan) Kernel Oil
Adansonia Digitata (Baobab) Seed Oil
Plumeria Acutifolia Flower Extract
Cetearyl Olivate
Butyrospermum Parkii (Shea Butter)
Sorbian Olivate
Sodium Lactate
Malus domestica fruit cell culture
Caprooyl Tetrapeptide-3
Rosmarinus Officinalis (Rosemary) Leaf Extract
Heliantus Annuus (Sunflower) Seed Oil
r-Lipoic Acid
Calendula Officinalis (Marigold) Extract
Spirulina Platenis Geitler Extract
Punica Granatum (Pomegranate) Extract
Camellia Sinensis (Green Tea) Leaf Extract
Niacinamide
Olea Europaea (Olive) Leaf Extract
Sodium Hyaluronate
Sclerotium Gum
Dextran
Phospholipids
Glycerin
Xanthan Gum
Citrus Paradise (Grapefruit) Seed Extract
Potassium Hydroxide
Polyaminopropyl Biguanide
Phenoxyethanol
Play
Interview with La Vie Celeste founder (VIDEO)
Teri Dourmashkin is the lovely and smart founder of one of my favorite natural skincare lines, La Vie Celeste. Recently, she was kind enough to spend some time chatting with me on video and here she…
Play
Demo of La Vie Celeste products (VIDEO)
La Vie Celeste founder Teri Dourmashkin gives us a tour of her products,their ingredients and why she chose them. She also explains how to use them, with tips for getting the most out her Mother of…
Apply a small amount to face and neck. May be used around the eye area if desired. Best suited for dry to normal skin types.