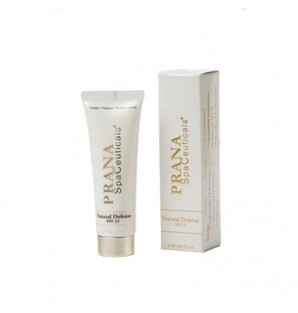 Prana Natural Defense SPF 25
Size: 1.7 oz (50 ml)

Prana Natural Defense SPF 25 is a lightweight moisturizer suited for anyone looking for a product that provides skin with antioxidants and nourishment, as well as protection from the sun. Active ingredients, such as rhatany root extract, green tea and micronized titanium dioxide help to fight free radicals, while hydrating and sheltering skin from harmful environmental exposure. In order to make sure this product provides the efficacy and results it promises, Truth In Aging has tested and reviewed Prana Natural Defense SPF 25, to ensure that you get a moisturizing cream that will nurture and shield your skin.

Prana Natural Defense SPF 25 uses aloe vera gel, barbadenis leaf extract and vitamin E to provide delicate skin protection from the sun's harmful rays, as well as any other outside exposure. Apply to clean dry face/neck, and reapply for excessive/active sun and water exposure. This nourishing creme doubles as a moisturizer, and serves as an ideal base for makeup.
Tested for 30 days and recommended by Elena K.

Now that the central heating is off and it's spring outside, I gave Prana Natural Defense SPF 25 a try and, you know, I'm really enjoying it. I might even go so far as to call it a must-have for the spring/summer season; it's light, silky and pleasant to use.

The scent is so delicious (like candies or caramel), and when you apply it, it absorbs quickly yet provides enough time for a light face massage. As you massage it in, you can see your face transforming – all lines disappear, the skin looks fresh and healthy. The feeling is like you have taken a breath of fresh air or just returned from a warm-weather vacation on some heavenly resort.

Moreover, the product provides not only good moods and pleasant feelings, but also good sun protection (it has SPF 25, which is enough for the city) and antioxidants. The actives remain stable thanks to the smart packaging in a dark opaque plastic bottle with a pump. The volume is generous.

This product does wonders and provides optimal sun protection, moisturizes, feeds your skin with antioxidants and makes a great base for makeup.

I am very happy with this sample from TIA. I would absolutely recommend it to everyone, especially for spring and summer.
Got Questions? Contact Us
read more
Our Take
Reviewed by Elena K. Here is my review of a really wonderful all-in-one moisturizer from Prana called Natural Defense SPF 25 Moisturizer ($39 in the shop). Originally, this product was offered to me by TIA for testing at the end of 2012. After reading the description and list of ingredients,... read more
Was this review helpful?
Yes
/
No
0 member(s) found this review helpful
Purified Water (Aqua)
Aloe Vera Gel
Barbadenis Leaf Extract
Rhatany Root Extract
Green Tea
Caprylic/Capric Triglycerides
Rice Bran Oil
Sesame Seed Oil
Vitamin E
Linoleate
Wild Pansy Extract
Micronized Titanium Dioxide
Comfrey Root
Dexapanthenol
Hyaluronic Acid
Grape Seed Extract
Licorice Root Extract
Sodium PCA
Alpha Bisabolol
Allantoin
Plantain
Beta Glucan
Pycnogenol
Riboflavin
Fruit Extracts