Sciote Illume Brightening Creme
Size:
1.7 oz (50 ml)
Sciote Illume Brightening Creme reduces hypepigmentation, age spots, sun spots, fine lines and wrinkles with potent concentrations of glycolic acid (5%) and kojic acid (3%) to restore skin's radiance and clarity. This creme also contains hyaluronic acid to deeply hydrate and rejuvenate tired skin.
TIA Review by Tina:
Since the holiday shopping season sprung upon us back in November on "Black Friday," I have been using Sciote (pronounced Sho-tay) Illume Brightening Crème every evening on clean, dry skin. It has been a very pleasing experience and my skin has responded in good cheer. I am one month into my two to three-month usage period before breaking for a one-month hiatus.
The crème is neither thick nor thin, but rather a perfect medium-weight consistency that disappears into the skin very easily and leaves no residue or greasy feeling on the surface or to the touch. The scent is mild and pleasant and reminds me of Ivory soap. It's a clean fragrance that quickly leaves the senses and is not in the least bit perfumey or "stop you dead in the tracks" bold. Recommended for all skin types, the crème is part of Sciote's Advanced Line of skincare offerings.
I use two airless pumps of product to spread evenly on my face and neck area. This anhydrous (water-free) formula is made up of three key ingredients; aloe, glycolic acid and kojic acid. The aloe improves hydration and soothes the skin, while the 5% glycolic acid reduces hyperpigmentation, age spots, fine lines and wrinkles. The 3% kojic acid inhibits the formation and deposits of melanin in the skin. So far, my skin is responding in kind with nary a reaction, bump or blemish. It works well and complements my other skincare products, which include those packed with vitamin C, retinol, peptides and growth factors. At 50-plus years of age, I am lucky in that I don't have a lot of discoloration issues. My skin is pretty even in tone. However, I do feel that my skin could use an overhaul in the radiance department. My skin looks duller in recent years and has lost much of the youthful glow and lifted plumpness. I am willing to try any type of youth-enhancing booster that can topically improve and refresh the look of my skin. For most of my adult life, I have battled troubled acneic sensitive skin, and now I am at war with wrinkles, deflated volume and age-compromised luster.
Although I cannot attest to a significant improvement in brightness just yet, I can say that my skin texture does look better and the pores are reduced some. I will stay on course with faithful use for another two months or until the product is used up. The company recommends two to three months nightly use and then taking a month off before restarting regular application.
My philosophy is to always give a skincare product two to four months' worth of usage before making judgment as to effectiveness in improving overall skin quality and seeing positive anti-aging changes. Sciote Skin's philosophy is to use the purest ingredients, be mindful of the environment and most importantly, to give their clients the knowledge to make an educated decision about their skincare. Incidentally, the word "sciote" is Latin, meaning "know thyself".
And, the company believes that the consumer has a right to know exactly what they are putting on their skin. They use pure and clean ingredients with no harmful sulphates, thalates, parabens, dyes, toxic and harmful chemicals or artificial perfumes. They've created an ideal balance of natural and certified-organic products combined with the latest technology and science.
The complete potpourri of ingredients also includes hyaluronic acid, jojoba oil, willow bark/salicylic acid, licorice, lemon balm, ginseng, bergamot oil, shea butter, Vitamin B5 and green tea, among others.
Sciote is a USA-based company and one that I feel is already and will continue to be a formidable force in the skincare industry. They consciously care about the environment and use the purest essential oils and botanical ingredients. I am inclined to also try Sciote's peptide and retinol-based products and compare them with my current similar and potent skincare staples. Thus far I am "on board" with Sciote Illume Brightening Crème and hope to see a more bright and youthfully fresh complexion in the mirror by Valentine's Day.
Got Questions? Contact Us
read more
Our Take
Since the holiday shopping season sprung upon us back in November on "Black Friday," I have been using Sciote (pronounced Sho-tay) Illume Brightening Crème ($85 in the shop) every evening on clean, dry skin. It has been a very pleasing experience and my skin has responded in good... read more
Was this review helpful?
Yes
/
No
0 member(s) found this review helpful
Organic Aloe Barbadensis (Aloe Vera)
Isopropyl Palmitate (Palm Oil)
Kosher Vegetable Glycerin
Cetyl Alcohol
Stearic Acid
Glyceryl Stearate
Organic Carthamus Tinctorius (Safflower Oil)
Hyaluronic Acid
Organic Simmondsia Chinensis (Jojoba Oil)
Glycolic Acid
Organic Ganoderma Lucidum (Kojic Acid)
Organic Melissa Officinalis (Melissa)
Organic Salix Alba (Willow Bark/Salicylic Acid)
Organic Glycyrrhiza Glabra (Licorice)
Organic Melissa Officinalis (Lemon Balm)
Organic Panax Quinquefolius (Ginseng)
Organic Pimpinella Anisum (Anise)
Organic Armoracia Rusticana (Horseradish)
Organic Schisandra Chinensis (Schisandra)
Organic Joeniculum Vulgare (Fennel)
Citrus Bergamia (Bergamot Essential Oil)
Butyrospermum Parkii (Shea Butter)
Organic Simmondsia Chinensis (Jojoba Oil)
Panthenol (Vitamin B5)
Phenoxyethanol
Ethylhexyl Glycerin
Xanthan Gum
Organic Camellia Sinensis (Green Tea)
Citric Acid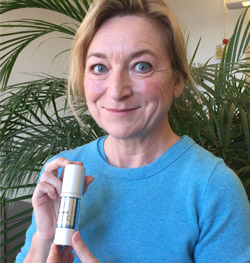 Play
How to Get the Most Out of Your Airless Pump (VIDEO)
Airless pumps are great because they keep your products fresher longer; but they can sometimes be tricky to work with! Here, Marta offers a few tips on how to get the most out of airless pumps.
Duration: 1:17
Apply 2-3 pumps in the evening. Use for 2-3 months then take 1 month off.