Sciote Peptide+Defense Firming Youth Creme
Size:
1.7 oz (50 ml)
Sciote Peptide+Defense Firming Youth Creme promotes elasticity and an even complexion with glycolic acid (5%), lactic acid (3%), bee propolis, royal jelly and a peptide complex. This creme also contains squalene and hyaluronic acid to increase the moisture retention of dry, mature skin while reducing the look of fine lines and wrinkles.
TIA Review by Phyllis:
I'm in my late 50s, and it takes a lot for me to go "wow" about a product. Maybe it's a function of being near-sighted most of my life, but frankly, I rarely actually SEE changes in my skin. I can feel differences, especially if the cream is hydrating, but to produce change I can really see (with my blind eyes) is exceptional. That's exactly what happened with the Sciote Peptide+Defense Firming Youth Creme. After less than a week of use, I swear I could see that the skin on my face was plumper and healthier. Dare I say it actually… GLOWED?!
The first impression I had of Sciote's creme was "spare," but spare in an elegant, minimalist sort of way. The creme is more like a serum than a lotion — light and thin. There was no discernible odor to me, but it wasn't that funky lack of smell that consciously-unscented products sometimes have. Sciote's crème goes on like silk: smooth, light, and, once on, unnoticeable. It does well under makeup and over any other products you might be using. I used the recommended two to three pumps twice a day.
The ingredients, though, are anything but spare. Sciote advertises this as having bee propolis, royal bee jelly (towards the top half of ingredients) and a proprietary peptide blend. I counted 45 separate ingredients on the ingredient list, including just about any ingredient I had ever heard of for hydrating, tightening, and lightening. Sunflower oil, coconut oil, coconut butter and squalane (an emollient I had heard of but hadn't tried before) were in the top ten. The next ten included glycolic acid (one of those alpha hydroxyl acids I've been hearing about forever), MSM (a plumping agent), more oils, as well as green tea, eyebright, licorice and vitamin C (natural skin lighteners). But that's not all: further down the list are evening primrose oil, borage, rose hip, calendula, macadamia nut oil and aloe vera. It would be easier to list what is NOT in this product, quite frankly. I checked most of the ingredients with the Environmental Protection Group (EPG) database and only one registered more than zero (2-4), and that was the glycolic acid, a much-recommended product for skin hydration.
Packaging for this product is just what the experts recommend, as well. The product comes in an opaque, silver bottle with a pump, so there is no contamination when applying it. I've used the pump for about a month and have not had any problems. The only concern I do have is that because the bottle is opaque, I can't tell how much of the product is left. This product is a little pricey for me, but I am so impressed with its effects, I am adding it to my wish list for when my current bottle runs out.
Got Questions? Contact Us
read more
Our Take
by Phyllis I'm in my late 50s, and it takes a lot for me to go "wow" about a product. Maybe it's a function of being near-sighted most of my life, but frankly, I rarely actually SEE changes in my skin. I can feel differences, especially if the cream is hydrating, but to produce change... read more
Was this review helpful?
Yes
/
No
0 member(s) found this review helpful
Aqua (Water)
Organic Helianthus Annuus (Sunflower Oil)
Glyceryl Stearate
Kosher Vegetable Glycerin
Octyl Palmitate
Glycolic Acid
Squalane
Organic Cocos Nucifera (Coconut Oil)
Lactic Acid
Isopropyl Palmitate (Palm Oil)
Hydrogenated Castor Oil
Theobroma Cacao (Cocoa Butter)
Cassia Angustifolia Seed Polysaccharide (HyalurosmoothTM)
Cetyl Alcohol
Cetearyl Alcohol
Cetearyl Glucoside
Stearyl Alcohol
Sodium Hydroxide
Potassium Stearate
Organic Beeswax
Methylsulfonylmethane (MSM)
Sodium Ascorbyl Phosphate (Vitamin C)
Dipeptide Diaminobutyroyl Benzylamide Diacetate (Syn®ake)
Acetyl Hexapeptide‑3
Cucumis Sativus (Cucumber Distillate)
Royal Jelly
Organic Resina Propoli (Propolis)
Wildcrafted Verbascum Olympicum & Thapsus (Mullein)
Organic Simmondsia Chinensis (Jojoba Oil)
Ubiquinone (Coenzyme Q10)
Helichrysum Gymnocephalum (Immortelle)
Phytic Acid
Phospholipids
Wildcrafted Mahonia Aquifolium (Oregon Grape)
Wildcrafted Camellia Sinensis (Green Tea)
Camellia Oil
Persea Gratissima (Avocado Oil)
Organic Euphrasia Officinalis (Eyebright)
Organic Glycyrrhiza Glabra (Licorice)
Cymbopogon Schoenanthus (Lemongrass)
Butylene Glycol
Ascorbyl Palmitate (Vitamin C Palmitate
Calophyllum Inophyllum (Tamanu Oil)
Wildcrafted Baptisa Tinctoria (Wild Indigo)
Organic Borago Officinalis (Borage Oil)
Organic Linum Usitatissimum (Flax Seed Oil)
Organic Oenothera Biennis (Evening Primrose Oil)
Organic Rosa Canina (Rose Hip Oil)
Panthenol (Vitamin B5)
Wildcrafted Arnica Montana (Arnica)
Organic Lavandula Angustifolia (Lavender)
Organic Calendula Officinalis (Calendula)
Organic Anthemis Nobilis (Chamomile)
Macadamia Integrifolia (Macadamia Nut Oil)
Sodium Carbomer
Sclerotium Gum
Benzyl Alcohol
Potassium Sorbate
Lecithin
Citrus Medica Limonum (Lemon)
Saccharum Officinarum (Sugar Cane)
Xanthan Gum
Ethylhexyl Glycerin
Organic Aloe Barbadensis Leaf (Aloe Vera Extract)
Organic Centella Asiatica (Gotu Kola Extract)
Organic Equisetum Arvense (Horsetail Plant Extract)
Organic Pelargonium Gravoleons (Geranium Extract)
Organic Taraxacum Officinale (Dandelion Extract)
Phenoxyethanol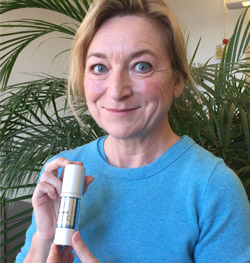 Play
How to Get the Most Out of Your Airless Pump (VIDEO)
Airless pumps are great because they keep your products fresher longer; but they can sometimes be tricky to work with! Here, Marta offers a few tips on how to get the most out of airless pumps.
Duration: 1:17
Apply 2-3 pumps daily to face, neck and decollete after cleansing and serum. The Alpha Hydroxy Acid in this product may increase sun sensitivity. Wearing a sunscreen daily is recommended.