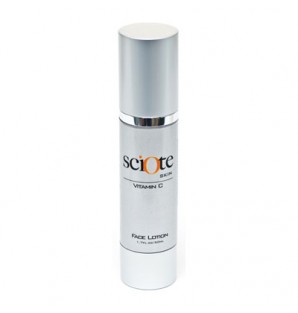 Sciote Vitamin C Face Lotion
Size: 1.7 oz (50 ml)

Sciote's Vitamin C Face Lotion is light, brightening moisturizer that is loaded with 15% vitamin C. This potent dose reduces the appearance of a variety of types of hyperpigmentation, from sun damage to age spots to light scarring. Its ingredients also hydrate and smooth your skin with a host of naturally-derived oils and nutrients. Our reviewer tested this lotion for 30 days and loved the smoothing and brightening effects it offers, so you can order it yourself with confidence that it will work for you!

Along with sodium ascorbyl phosphate, a safe and gentle derivative of vitamin C, this lotion contains collagen-boosting MSM and a range of skin-hydrating components such as shea butter, aloe vera, safflower oil, jojoba oil, green tea and dandelion oil. This paraben-free, organic and lightweight moisturizer is best used daily by oily to normal skin types; it is not recommended for sensitive skin.

Tested for over 30 days and reviewed by Imelda:
When Marta introduced Sciote as one of her favorite new brands last year, I was intrigued with the brand name, which is Latin for "Know Thyself". At this mature 50+ age, I can say that I know myself enough to accept and acknowledge my strengths and weaknesses, as well as my body's own signs of getting up there in age. Thankfully, my good Asian genes have cooperated and gracefully kept the aging signs to a minimum, except for a few concerns such as hyperpigmentation, which I have been addressing for the past few years. So when TIA asked if I wanted to test Sciote Skin Vitamin-C Face Lotion, of course I jumped on the challenge.

Indeed, it has been a challenge to rid my face of the sun damage that has popped out through the years since hyperpigmentation can not be magically erased in a snap. It takes patience and persistence plus lots of innovative products, such as this lotion found in Sciote Skin Vitamin C line. My combination skin soaked up this light moisturizing lotion packed with 15% vitamin C in the form of Sodium Ascorbyl Phosphate, which is considered gentle, safe and stable as described in EWG.org cosmetics and TIA's ingredients databases. This form of vitamin C is an antioxidant and the main skin lightening active in this Sciote product. In addition to the key ingredient, Sciote Skin Vitamin C Lotion also contains Methylsulfonylmethane (MSM), a plant chemical used to encourage collagen production; various essential oil extracts and skin conditioning agents, such as Shea Butter, Panthenol, Aloe Vera, Palm Oil, Safflower Oil, Jojoba Oil, Green Tea, Dandelion Oil; and antioxidant & anti-inflammatory extracts like Gotu Kola extract, Horsetail Extract and Geranium Extract, with increased wound-healing properties.

All these wonderful and pure plant ingredients helped make my skin smoother and softer with all that extra hydration, but for the first two to three weeks there was really no visible reduction in the hyperpigmentation on the cheek areas. However, on the newer dark spot, which was actually an acne scar on my forehead, I noticed a slightly diminished shade after four weeks. I gauge this through the amount of concealer I was applying on it as it took less concealer and quicker blending time to cover the dark spot. So, I might confidently say that this product works better at reducing the appearance of dark spots that are fresher or newer than it does the hyperpigmentation I have had on my cheek area, which will probably require more advanced measures to vanish.

I plan to continue using and would recommend the Sciote Skin Vitamin-C Face Lotion. It improved my skin's texture and maintained its satiny smoothness. If I hadn't used it, the acne scar would probably still be five shades darker than it is now; I can say it is slowly fading. For the rest of the hyperpigmentation that is still hanging around, I will probably try the Sciote Advanced Line that contains Kojic Acid.

Discount codes cannot be applied to this item.

Got Questions? Contact Us
read more
Our Take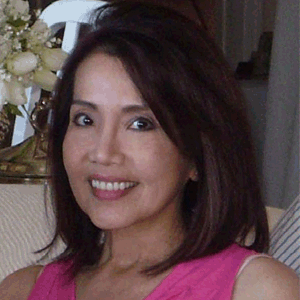 When Marta introduced Sciote as one of her favorite new brands last year, I was intrigued with the brand name, which is Latin for "Know Thyself". At this mature 50+ age, I can say that I know myself enough to accept and acknowledge my strengths and weaknesses, as well as my body's own... read more
Was this review helpful?
Yes
/
No
0 member(s) found this review helpful
Deoinized Aqua (Water)
Isopropyl Palmitate (Palm Oil)
Methylsulfonylmethane (MSM)
Sodium Ascorbyl Phosphate (Vitamin C)
Kosher Vegetable Glycerin
Cetyl Alcohol
Stearic Acid
Glyceryl Stearate
Butyrospermum Parkii (Shea Butter)
Organic Carthamus Tinctorius (Safflower Oil)
Organic Simmondsia Chinensis (Jojoba Oil)
Panthenol (Vitamin B5)
Ethylhexyl Glycerin
Xanthan Gum
Organic Camellia Sinensis (Green Tea)
Citric Acid
Organic Aloe Barbardensis Leaf (Aloe Vera Extract)
Organic Centella Asiatica (Gotu Kola Extract)
Phenoxyethanol
Organic Equisetum Arvense (Horsetail Plant Extract)
Organic Pelagonium Gravoleons (Geranium Extract)
Organic Taraxacum Officinale (Dandelion Extract)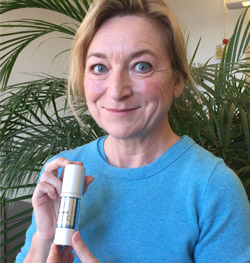 Play
How to Get the Most Out of Your Airless Pump (VIDEO)
Airless pumps are great because they keep your products fresher longer; but they can sometimes be tricky to work with! Here, Marta offers a few tips on how to get the most out of airless pumps.
Duration: 1:17
Apply 2-3 pumps daily to face after cleansing and serums.