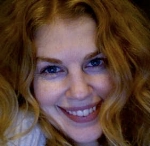 Kim
Age: 40
Location: New York, NY
Skin Type: Sensitive
Skin Concerns: Signs of aging
I grew up in Miami surrounded by super tanned beauties. Sun worshiping was the norm, and my ultra pale, delicate skin and the strong Miami sun were not a great match. Most of my childhood was spent slathered in sunscreen. And a great majority of my adolescence involved devising clever excuses to avoid weekends on the beach laying out. So protecting and caring for my skin has been a part of my daily routine since I was young. And I must say, it has certainly paid off. I'm 40, but my skin looks way younger.

Even before I discovered Marta's brilliant site, I spent a lot of my free time investigating the world of skin care and learning about the best ways to care for my skin both from the outside and from within. I became the person everyone came to when they had skin questions, from what products to use, to what to put on a rash. So when I discovered TIA, I was an instant fan. Marta was doing all of the hardcore research for me!

When it comes to taking care of your skin and your beauty, I believe it's best to utilize nature and science to help the body stay healthy, aligned and radiant. And, of course, I love testing out products and sharing what I've learned with the TIA community.