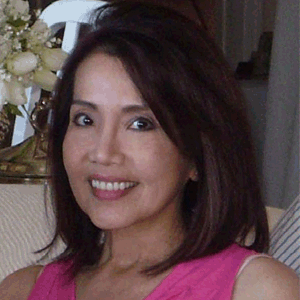 Imelda
Age: 50-something
Location: Southern California
Skin Type: Combination
Skin Concerns: Hyperpigmentation, pores
I have always considered my late mother's vanity as the most influential factor in my growing up years when it comes to the anti-aging regimen required of women. She would always slather her face with the latest beauty products of her time from Pond's Cold Cream in the 50s to Avon products in the 60s to some Chinese pearl cream in the 70s and Oil of Olay in the 80s to the 90s. Every time she went out, she would carry an umbrella to shield her face from the sun. Until the day she passed at age 69, her skin had been smooth and had very few wrinkles.

So I started the "copy mom's" facial regimen early on in my 20s, starting with the use of moisturizers in spite of my super oily skin. However, I failed to stay away from sun exposure like she did because I loved going to the beach and water-skiing during my teens through young adult years in the Philippines. The sun damage naturally followed as evident in the melasma and sun spots on my cheeks. Probably because of my Asian heritage, I managed to have a fairly good skin texture as I approached my mature years. Not many wrinkles and just a few fine lines have formed now that I am in my mature years. Thanks to following what Mom had done religiously: never go to bed with makeup on, cleanse, tone, moisturize and get a lot of sleep. As for a lot of sleep, I really wasn't able to do this as religiously as I should and would have wanted during those younger years of disco fevers.

Nevertheless, now in my mature years, it is a must for me to have as much sleep as my body requires. My face, which is less oily now, goes through a daily regimen of cleansing, toning and moisturizing and most of all never forgetting to put on the SPF 30+ moisturizing sunscreen, a step I had always somehow ignored in my early adulthood. Products I currently use are more in the natural range compared to what I purchased during the period when I was not aware of harmful ingredients present in most products, whether high-end or drugstore brands. Thanks to Truth in Aging, I have more awareness of what works and what's all just media hype on products.

In addition, having followed a daily exercise program since my early 20s, I am proud to say that I am in good shape and have not experienced any sort of weight problems. Through the years, I've paid attention to my body as much as my face with daily workouts as well as using body wash and body lotions that were advertised or promoted to keep skin hydrated and smooth. But it was only when I discovered TIA that I switched to sulfate-free and paraben-free products.

Current product favorites are all quite affordable: Sirius Skinsonic Skin Care System, Aubrey Organics Herbal Facial Cleanser (oily skin) and witch hazel toner, Reviva Labs Firming Eye Serum, DeVita Solar Protective Moisturizer SPF 30+ with hyaluronic acid, La Vie Celeste Day & Night Cream for face; ShiKai shampoo and conditioner for hair; and the Bar Method Change Your Body DVD, Hugo Naturals body wash, Lather AHA Hand Crème with Evening Primrose and Sofian Lavender Whipped Body Crème for body.