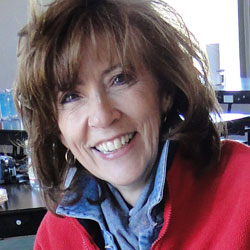 Cristina
Once upon a time, when I was younger, I was always complimented on my great skin. Yeah, so? I thought nothing of it. I used to watch my mother slather Nivea all over her face and I thought "How weird!" I never used anything on my skin but soap and water until I was in my 50s… when those drat wrinkles started becoming too obvious!

Okay, Mom... I get it!

So now I am in the next decade of my life, and there are not only wrinkles, there's sagging too! I led a pretty healthy lifestyle, so how did that happen? The gift of aging is not denied to anyone who attains it. Ha, what a gift! Of course, now I am intensely researching the best "whatever" to use on those wrinkles and sags.

But I have to be honest with myself. I have been a lucky lady as far as my looks are concerned. I may not be gorgeous, but God put together a somewhat pleasing face for me and I am going to try very hard to keep it that way. Aside from the luck of great Italian genes, the wonder of the internet has certainly helped. That is how I found Truth in Aging about two years ago. I was doing what I have always done since I can remember… research! I was researching the best skincare, that miracle product… something that really worked. I wasn't just after the deal. I wanted to make sure that whatever it was that I needed was the truth or good quality or reputable. Old habits never die, neither does an education. At least not in my mind.

So here I am, doing the ultimate research for skincare products. I am not just reading about it, I am physically trying it – and it's been totally fun. Kind of like being a skincare scientist. This opportunity has also fed my most basic instinct to help others discover something that works for them. I am grateful to TIA for giving me this delightful opportunity to contribute my experience and opinions, and most importantly, helping find skincare that really works. I feel so important!

But above all, I am grateful for the most wonderful compliment that was given to me by my beautiful daughter: "Mom, I don't mind getting old (she means 'older' of course). Just look at you! You look great for your age!"

One last word of advice from my experience… If you look good, it will help you feel good. So don't feel the least bit guilty or vain for wanting to look your best. Your good health is the recipient of those good vibes.